"DOT-compliant LED Motorcycle Lighting." "SAE-compliant." "ECE-compliant." What do these all mean when it comes to motorcycle lighting? What is DOT Compliant Lighting? Why are some products DOT compliant and others are not? Why buy DOT Compliant lighting? And, how can you tell if a light is DOT compliant?
DOT & FMVSS
All automotive lighting, signaling, and reflective devices are regulated by U.S. federal regulations called Federal Motor Vehicle Safety Standards (FMVSS). The FMVSS are established and administered by the U.S. Department of Transportation (DOT). The FMVSS specify design, construction, performance, and durability requirements for motor vehicles. To be DOT compliant, lighting must meet the Section 108 requirements of the Federal Motor Vehicle Safety Standards (FMVSS).
SAE (Society of Automotive Engineers)
SAE (Society of Automotive Engineers) is a worldwide organization that sets technical standards for the manufacturing, testing and design of automotive lighting. As experts in their fields, the SAE identifies and explains these standards based on best practices. While SAE standards or "recommended practices" alone do not carry legal merit, they are often incorporated into the FMVSS, making them law.
In short, SAE guides the quality of the product and the DOT tests the product to make sure it is fully compliant with transportation law and approved for use on all US roads and highways.
FMVSS Standard 108
As we mentioned, one FMVSS of interest to motorcyclists is Standard 108, which regulates lighting.
FMVSS Standard No. 108 #5 states: "If optically combined with a turn signal lamp, is automatically deactivated as a DRL when the turn signal lamp or hazard warning lamp is activated, and automatically reactivated as a DRL when the turn signal lamp or hazard warning lamp is deactivated".
FMVSS Standard No. 108 #5 has a dramatic impact on the performance and visibility of a turn signal. Previously, we compared a variety of Amber/White Motorcycle LED Turn Signal Inserts. Compliance was one of the criteria on which the comparisons were based.
Comparison B: ProBEAM® v. Competitor
During the turn signal cycle, the cluster alternates flashing between the white ring of LEDs and the amber LEDs in the center. Because the white ring of LEDs remains illuminated during the turn signal cycle, this product would not meet FMVSS Standard No. 108 #5 and does not follow DOT regulations.
Comparison C: ProBEAM® v. Competitor
A significant drawback to this product is how the cluster functions with the 4-way hazard lights activated. The electrical design of this cluster requires constant power to illuminate the LEDs. Because of this design flaw, with the hazard warning cycle engaged there will be no illumination from the turn signals. Albeit, this is a very concerning design flaw which is also in direct opposition of FMVSS S5.5.5. You can see the problem in our Motorcycle LED Turn Signal Lights comparison video (above).
Comparison D: ProBEAM® v. Counterfeit
The ring of white DRL LEDs do not turn off at all when the turn signal activated. This behavior does not comply with FMVSS Standard No. 108 #5. Because the white LEDs overpower the amber turn signal, the turn signal is almost invisible. Below you can see the hazard warning cycle flash with the counterfeit LED cluster on the right side. The pronounced amber ProBEAM® hazard warning flash on the left (for comparison). Comparatively, you cannot see the counterfeit amber hazard warning flash (right side).
Another example is our new Custom Dynamics® Genesis® 4 Solid Amber/White (Non-Halo) LED Turn Signals. 48 super bright dual color LEDs produce the brightest full white running light (Halo Free) with full amber turn signal on the market. Federal Motor Vehicle Safety Standard FMVSS108 requires when a turn signal is activated the white DRL completely turns off. This provides greater visibility to the amber turn signal. Below you can see the Genesis® 4 LED Turn Signal Inserts compared to a competitors solid amber/white LED insert.
Legality
Did you know if your lighting isn't DOT compliant, you can be penalized with a ticket/citation, a fine or even jail time? By law, all headlights and taillights must be DOT compliant to be legal for use on all roads and highways in all 50 states of United States. Headlights or taillights without DOT compliance are intend for off road use only and are not legal for use on all US roads and highways.
Testing
For headlights or taillight to be DOT compliant, the product must meet strict regulations, standards, specifications and tests. This ensures the product is safe to use in public, serves its purposes and provides adequate illumination.
To be SAE complaint, all headlights and taillights must past certain standards, test procedures and material tests set by SAE to guide the quality of the product. Until approved by DOT, SAE approved headlights and taillights are not street legal in US.
In the US & Canada, lighting products are self-certifying. This means manufacturers like Custom Dynamics® are responsible for "self-certifying" or testing their own products to ensure compliance. Unless a certification is "clearly erroneous", it will stand.
Throughout production, manufactured batches are also tested to ensure the compliance standards are maintained. USDOT does not approve products. For this reason, the correct language is "DOT Compliant".  There are no "DOT or SAE approved" products. Pictured below is the Integrating Sphere used in the testing of Custom Dynamics® motorcycle LED lights.
Meeting SAE standards means both designing and testing products to meet performance and quality standards. There are both performance and quality tests that a product must meet or exceed. Quality Testing includes Photometry, Vibration Testing, Moisture Testing, Dust Testing, Corrosion Testing, Plastic Optical Material Testing and Heat Testing.
How to Identify DOT Compliant LED Motorcycle Lighting
All DOT compliant headlights and taillights will stamp the word "DOT" on the lights to show law officers that they are street legal and complied with the transportation law.
Check your lighting for an "SAE" identification code. This code is usually located or molded into the plastic on your light (see bottom of lens below). The SAE has developed a uniform identification code. All reputable manufacturers use this code.
The code molded into the bottom of the tail light lens (above) indicates the lamp has been designed to SAE specifications and is DOT compliant. The letter code indicates: S = Stop Lamp & T = Tail Lamp. The number '17' indicate the year the lamp was certified.
ECE Compliance
In Europe, a different organization sets standards. It is the Economic Commission for Europe (ECE). ECE compliant lighting products are certified to meet the applicable legal requirements for road vehicles in European Union (EU) countries and in other nations around the world that subscribe to ECE vehicle equipment standards. Today, various governments around the world have adopted ECE automotive standards.
ECE standards require different measures and testing than DOT Compliance/SAE standards do. Products bearing an "E-mark" signify ECE approval (pictured below). These products are continuously tested by agencies having the authority to approve the product in question.  You cannot self-declare or self-certify and affix an E-Mark. If compliant, the certifying body will issue an E-Mark Certificate after inspection and approval.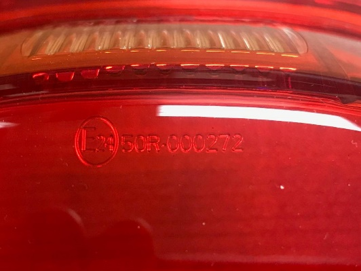 Why Compliance Matters
Above all, the purpose of the FMVSS is "to reduce traffic accidents and deaths and injuries resulting from traffic accidents, by providing adequate illumination of the roadway, and by enhancing the conspicuity of motor vehicles on the public roads…". DOT Compliant LED Motorcycle Lighting is designed and tested with riders safety in mind. What's worse than riding in the dark and having your lights fail due to a poor design or cheap components. Rest assured that by purchasing DOT/SAE-compliant or ECE-approved lighting, you are putting tested, proven components on your motorcycle. Ensuring your lights meet DOT requirements reduces your liability in cases involving property damage or personal injury. Plus, opting for DOT/SAE-compliant LED lighting eliminates the threat of a citation and gives you some peace of mind!