It's common knowledge that automobiles need safety devices like air bags and seat belts. However, lighting regulations are not at the top of safety conversations. As a rider, seller, or installer of aftermarket lighting products it is critical to be knowledgeable within this space. As is understanding your liability and taking actions to ensure compliance. Custom Dynamics is a leading manufacturer of V-twin lighting. We continue to offer a variety of DOT and SAE compliant motorcycle lighting products. Keeping riders' safety a priority.
Governing Agencies
All automotive lighting, signaling, and reflective devices are regulated by federal law. These are the Federal Motor Vehicle Safety Standards (FMVSS). Likewise, the U.S. Department of Transportation (DOT) establish and administer the FMVSS. They specify requirements for motor vehicles. Including design, construction, performance, and durability. To be DOT compliant, lighting must meet the Section 108 requirements of the Federal Motor Vehicle Safety Standards (FMVSS).
SAE (Society of Automotive Engineers) is a worldwide organization. They set technical standards for the manufacturing, testing and design of automotive lighting. As experts in their fields, the SAE identifies and explains these standards. SAE standards or "recommended practices" alone do not carry legal merit. However, they are often incorporated into the FMVSS, making them law.
Keep in mind, the DOT is not an approval agency. They do not test products for compliancy. Manufacturers are responsible for their own product testing. Also, to ensure the product is within legal parameters.
States also have their own lighting laws. Yet, those federal DOT laws always take precedence when both exist.
Motorcycle Lighting Laws
Federal law states motorcycle headlamps must illuminate white in color. Yellow or amber colored headlights are illegal. Motorcycle headlamps must also meet the beam aim and photometric standards.
"The light from the lamps should be white." – SAE J584

Federal Motor Vehicle Safety Standards No. 108; Motorcycle Headlamps
While headlamps can't be yellow, many other products can. SAE J583, designates a fog beam pattern. Motorcycle fog lamps are for dust, fog, and other low-visibility conditions. Moreover, they allow for yellow or amber colored light. So, ensure yellow or amber lights on the motorcycle that are not turn signals, indicate SAE compliance by a stamp in the lens. Similarly, the headlight will note DOT markings on the lens.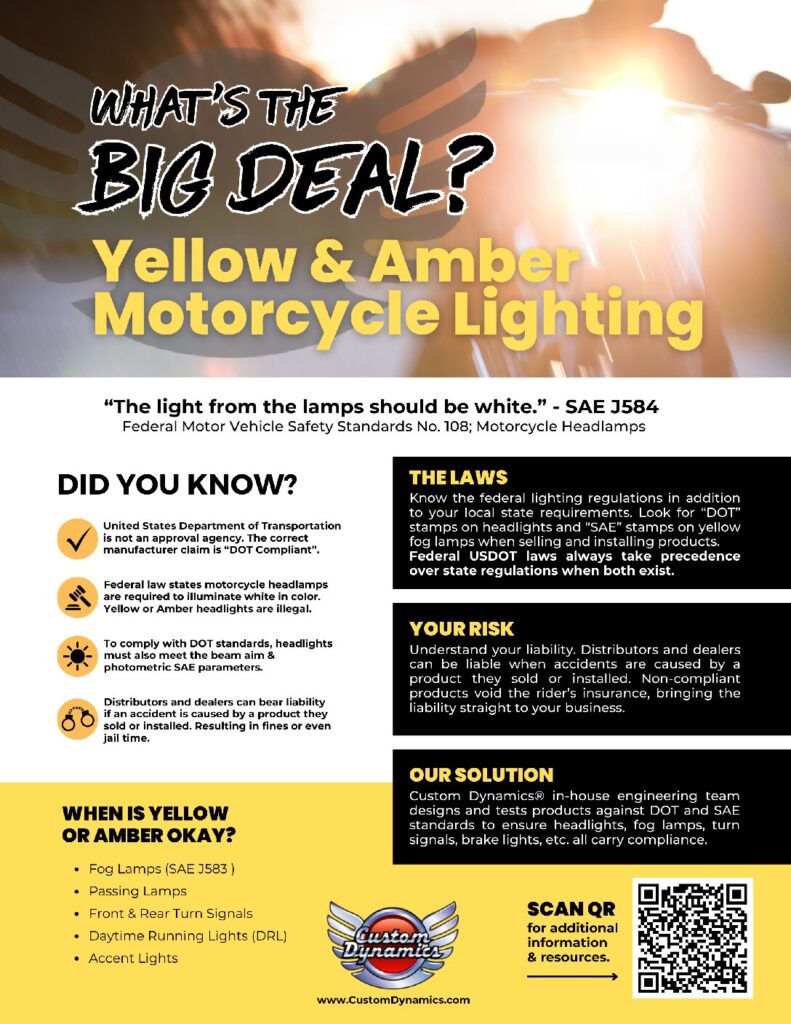 Risky Business
As a motorcycle rider, product reseller, or installer you assume a risk with illegal lighting products. Did you know if your lighting isn't compliant, you can face penalties such as a ticket/citation, a fine or even jail time? By law, all headlights and taillights must be DOT compliant for use on roads and highways in all 50 states. It's critical to understand your liability. Also, take actions that promote compliance with these regulations.
According to this California Headlight Law Article "Not every accident results from the actions of one of the drivers, or even a combination of fault between drivers. This holds in all types of accidents, including headlight accidents. Manufacturers and distributors of headlights and vehicles can also bear liability…"
This Florida Article about having too bright of headlights tells a story of a motorcycle rider on the highway with illegal lighting installed. "The driver who is coming toward you, who is also speeding, gets blinded by your lights. He swerves off the road and hits a natural gas line that was improperly installed too close to the side of the road; the gas leaks out and a 20-square-mile area around Tampa has to be evacuated. Then, the gas explodes and does 5 billion dollars in damage. Well, even if your illegal lights are found only to be 1 percent at fault, the other driver is found 49 percent at fault and the gas company is found 50 percent at fault, you will be liable for 50 million dollars!"
This scenario is an extreme case. But, coast-to-coast the importance of compliant lighting is gaining traction.
Custom Dynamics Compliance Practices
After 20 years of designing and manufacturing LED lighting for motorcycles, Custom Dynamics has rigorous product testing procedures. The growing product line includes a variety of DOT and SAE compliant motorcycle lighting products. You can identify these by a marking on the product, specifically on the lens. The in-house team of engineering professionals focus its efforts on compliance. Soon, a new headlighting offering will be the pinnacle of performance, design, and compliance. Watch for its release from Custom Dynamics in early 2024!