Do you have to sacrifice motorcycle safety for style? Is it possible to strip down your bike & still be visible? When it comes to aftermarket lighting, it can be tough to keep your bike clean and cool. Custom Dynamics® offers LED lighting options to keep Harley-Davidson® Sportster, Dyna & Softail riders seen on the road.
UPGRADE STOCK LIGHTING
One of the first modifications you can make to any motorcycle is upgrading the factory lights to LED. Add visibility by upgrading OEM lights with plug and play replacements.
Harley-Davidson® Sportster, Dyna & Softail models come equipped with bullet OEM turn signal housing. They also have incandescent bulbs from the factory. Custom Dynamics® popular motorcycle LED front turn signals make for a quick swap. They add bright white running light with full contrast amber turn signals on the front of your motorcycle. Matching red rear LED turn signal options are also available.
For motorcycles equipped with a center taillight, Custom Dynamics® offers a variety of full LED replacements. LED taillights for your motorcycle offer a brighter running and brake light. Pair with Custom Dynamics® plug and play Magic Strobes™ brake light flasher module to add brake flash and strobe patterns too.
It is just as important to ensure the rider has a clear, wide field of vision. Most non-touring Harley-Davidson® models rely solely on the smaller 5.75" factory headlamp. Maximize the light output on Sportster, Dyna & Softail models. Upgrade the factory headlamp with one of Custom Dynamics® motorcycle LED headlights to ensure you can see and be seen!
ALL IN ONE LED SOLUTIONS
Stock upgrades don't stack up to the level of customization you're looking for? Custom Dynamics® Micro LED Turn Signals replace the factory bullet turn signal housing with a super bright spot of light. These bullet shaped housings measure smaller than a quarter. But, pack a big punch of light to keep you safe on the road. Single and dual color varieties are available. They work for front and rear turn signal applications in a black or chrome finish.
Integrated LED taillights offer built in run, brake & turn signal all in a complete plug and play unit. The Low Profile lens design is also a sleek upgrade from the factory square back lens. Left and right auxiliary amber turn signals flank red running light and brake light behind a smoked or red lens. Units attach to the OEM taillight base-plate on 2000-current models. Earlier Harley-Davidson® models can replace the factory motorcycle taillight base-plate for compatibility.
For some models, like the Harley-Davidson® Softail Fat Bob (FXFB/FXFBS) Custom Dynamics® offers an Integrated LED Taillight with Turn Signals. The LED light bar mounts under the edge of the rear fender with plug and play installation under the seat. A similar option for Harley-Davidson® Softail Breakout models adds a third brake light and turn signals under the rear fender.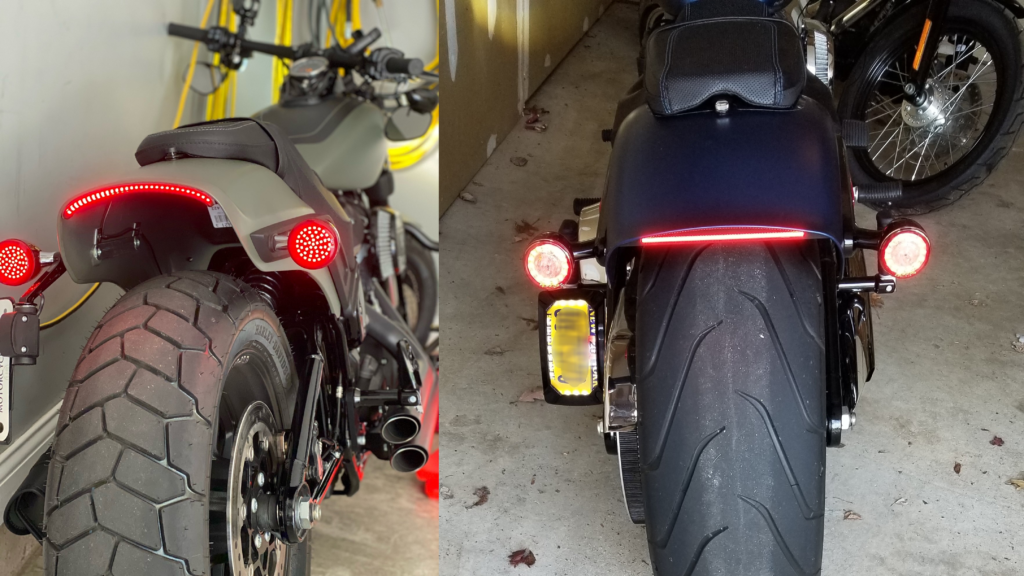 CUSTOMIZE YOUR MOTORCYCLE
After upgrading factory lighting, add more lighting accessories to improve safety & visibility. Custom Dynamics® LED Driving Light Bar when used with the headlamp provides unmatched output. The high power LEDs produce a super bright beam pattern to extend the rider's field of vision. Includes mounting bracket for securing to the triple tree.
Another popular accessory is a Custom Dynamics® Motorcycle LED License Plate Frame. Featuring built-in running light, brake light & auxiliary turn signals for an all-in-one solution. Available in flat horizontal or curved radius profiles. They can be used with one of our License Plate Frame Mounts or incorporated into custom builds.
Regardless of your ride or style, Custom Dynamics® has an LED solution for your motorcycle. Popular touring models like the Harley-Davidson® Street Glide and Road Glide have fairings and saddlebags. Making it easy to find space for added lighting accessories. Similarly, Custom Dynamics® makes it easy for non-touring models to keep a club style vibe without sacrificing safety on the road.
For more information shop with Custom Dynamics® or visit your local Drag Specialties dealer.