The 2023 Harley-Davidson Road Glide 3 is enjoying time in the spotlight right now. This means dealers have plenty of opportunities to help customers enhance this popular model. Custom Dynamics offers many plug-and-play lighting solutions for the '23 Road Glide. Riders can easily and immediately upgrade their new bike with any of these most popular products.
DOUBLE-X LED HEADLIGHT FOR ROAD GLIDE
One of those lighting options is the brand-new Double-X LED headlight. This headlight assembly begins with a completely sealed IP67 waterproof housing. Inside, double lamps provide a projection-style low beam. Additionally, ten high beam LEDs and reflective technology combine to produce a brilliant 4100 lumen high beam. Custom Dynamics designed the high beam so it gives riders ditch-to-ditch visibility. Hence, the entire road is illuminates for a wider view.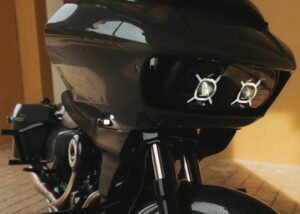 The Double-X LED headlight takes its name from the pattern the LEDs form. This light design is available in a solid white. Alternatively, riders can opt for the Bluetooth-controlled color-changing option. The color change is made possible with a Custom Dynamics ProGLOW controller, available separately. That allows the rider to choose any color via an app on their IOS or Android device.
Each Double-X LED headlight has a unique adjuster for proper aiming of the headlight after installation. The clear polycarbonate lens can be paired with either a chrome or black reflector.
ROAD GLIDE LED TURN SIGNALS
The front of the 2023 Road Glide 3 can get another upgrade with the ProBEAM Low Profile front turn signals. This easy plug-and-play swap gets rid of the stock turn signals in exchange for slim, sleek aluminum housings.
The bright LEDs provide a DOT-compliant white daytime running light. Also, a full-contrast amber turn signal behind a smoked lens. Customers can choose from a chrome, gloss black or gold finish.
REAR TAILLIGHTS FOR ROAD GLIDE 3
The Squareback-style ProBEAM Taillights from Custom Dynamics are the perfect match for the Road Glide 3. The Squareback taillights, which are available with a red or smoked lens, are DOT compliant. Additionally, they come with a window in one of the taillight lenses that casts light onto the license plate. This design feature makes the Squareback ProBEAM taillights not only a good aesthetic fit with the Road Glide 3, but a great functionality fit, too.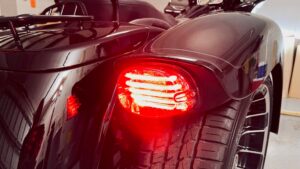 The Magic Strobes Brake Light Flasher is an option for the Road Glide 3 that provides a big punch of style. This little module plugs in under the seat and connects to the taillights, allowing the rider to choose from 10 different flash and strobe patterns. When the turn signal is engaged, the taillights will function normally to prevent any confusion. Then, it's back to the light show.
LEARN MORE
Talk to your Drag Specialties dealer to learn more about Custom Dynamics or connect with the Custom Dynamics support team for insight and assistance. Find all Custom Dynamics products in the FatBook and OldBook.
Author: Beth Dolgner
Source: Drag Specialties Magazine – May 2023
Read More: https://partsmagazineonline.com/magazines