Custom Dynamics® celebrates its 15th anniversary with our most ambitious product launch yet! ProBEAM® LED Motorcycle Lighting – the first LED Light Pipe product line for motorcycles! These are new types of pipes for your bike!
Countless hours and resources later, we can ensure the new ProBEAM® LED Motorcycle Lighting product line is superior in every way. Because of innovative technology, we're able to offer significant benefits while maintaining competitive pricing, an unsurpassed warranty and top-rated customer service!
Light Pipe Technology
Light pipes first gained popularity in the automotive industry. Major manufacturers began implementing the modern designs into automobile taillights and headlamps. Custom Dynamics® is the first to introduce light pipes to the motorcycle industry! ProBEAM® is our premium light pipe product line for motorcycles!
LED light pipes are physical forms used for transmitting light. Their purpose is to act as a guide for the illumination. Light pipes are constructed out of either optical fiber or solid transparent plastic rods. LED light pipes have most recently become popular in the automotive industry. Think of the clean line illumination you see in new car headlamps and taillights. Light pipes distribute and direct the light. In turn, light pipes offer more uniform illumination and reduce shadowing and glare. The added benefit is more side visibility.
As LED lighting technology advances, it becomes more prevalent in the motorcycle industry. Custom Dynamics® goal is to introduce new and innovative products to our customers. As a result, we've spent countless hours not only in product development but also in product testing. The ProBEAM® line will offer a sleek new modern design. Even more, it will also add safety and visibility to any vehicle!
ProBEAM® Design
Custom Dynamics® is a family owned and operated business and has been for the past 15 years. With the new tax overhaul bill in 2017, owner Dave Pribula saw the perfect opportunity to reinvest in the company he started from the ground up. New patents were filed, standards and regulations studied and new equipment for testing was purchased.
No detail was overlooked in preparation for the ProBEAM® product release. ProBEAM® products are made from the highest quality automotive grade LEDs and are DOT, SAE and ECE compliant! Custom Dynamics® will still continue to offer our industry leading warranty program and Plug and Play installations for most Harley-Davidson® models!

DOT/SAE Compliant
Throughout the design process, there was a keen focus on making the ProBEAM® product line DOT and SAE Compliant for our customers. The design and testing of the new ProBEAM® product line focused on meeting performance and quality standards, including rigorous testing: photometry, vibration testing, moisture testing, dust testing, corrosion testing, plastic optical material testing and heat testing! You can always identify SAE compliant products by checking for "SAE" identification code – it will be molded into the plastic on our new ProBEAM® products!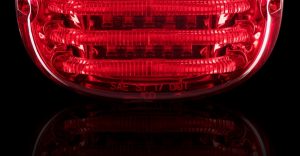 First, 5 light pipes illuminate across the taillight as the constant on running light. In addition, 25 High Power Automotive Grade LEDs provide a full contrast brake light. The ProBEAM® Low-Profile LED Taillight design protrudes only two inches from the stock taillight base-plate. It offers a sleek, custom look. In contrast, the ProBEAM® Squareback LED Taillight design mimics the look of the stock taillight while still providing a superior LED upgrade! DOT and SAE compliant. ProBEAM® taillights offer a plug and play installation. Backed by the Lifetime LED Warranty. Available in Red or Smoke, with or without top license plate illumination window (US Patents: D807545, D807546, 808,050S. China Patent: 201730257957.9). $159.95; DRAG PN: 2010-1364, 2010-1365, 2010-1362, 2010-1363, 2010-1368, 2010-1369, 2010-1366, 2010-1367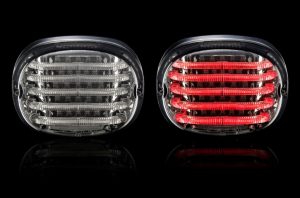 Similarly, ProBEAM® Fillerz® revolutionize rear fender lighting for newer style H-D™ Touring models with oval cutouts on the saddlebag support rails! To ensure top performance, we use only superior automotive grade LEDs. First, each unit offers 9 light pipes which illuminate as the constant on running light. In addition, 33 High Power LEDs offer high intensity illumination. As a result, with two sets of LEDs, ProBEAM® Fillerz® offer full contrast brake and turn signal! The modern light pipe design is a perfect match to the ProBEAM® Motorcycle LED Taillights & Brake Lights! Use them together for a premium LED Conversion for the rear fender. With a plug and play installation, the state-of-the-art ProBEAM® Fillerz® are a must! Available with a Red or Smoke lens in a Chrome or Gloss Black base. Backed by the Custom Dynamics® Lifetime LED Warranty. $199.95 (pair); DRAG PN: 2040-2156, 2040-2157, 2040-2158, 2040-2159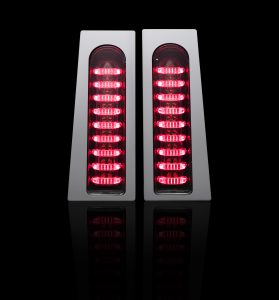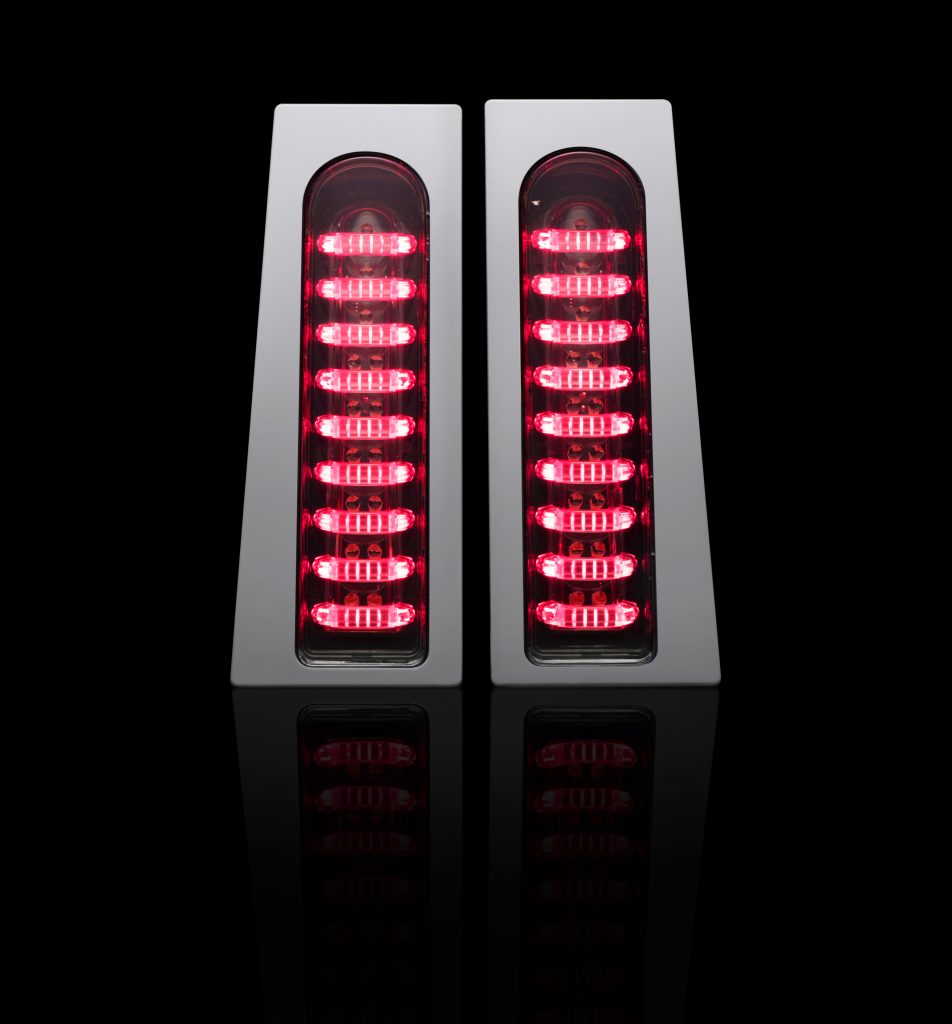 Made in the USA, ProBEAM® Headlamps offer the latest in engineering innovation! The modern, sleek design is sure to turn heads. State-of-the-art, automotive grade LEDs deliver superior performance. In turn, the benefit is enhanced visibility for both riders and other drivers. We use signature solid optics to offer an ideal beam pattern. Hence, the performance is undeniable: illumination down the road as well as on either side. Made from a heavy-duty, light-weight die-cast aluminum, the low-profile housing requires no trim ring! Plus, the ease of a plug and play installation. ProBEAM® Headlamps are SAE, DOT and ECE Compliant. Backed by the Custom Dynamics® Lifetime LED Warranty. These premium headlamps are available with a Chrome or True Black Finish. Durable Polycarbonate Lens provides long term durability.  $449.95; DRAG PN: 2001-1749, 2001-1750, 2001-1747, 2001-1748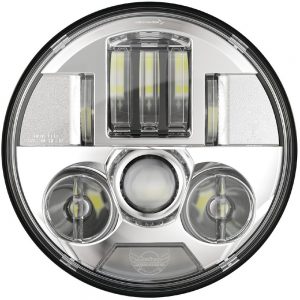 Further optimize your riding experience with the premium ProBEAM® Passing Lamps! The modern design provides a superior beam pattern both in distance and coverage. The added visibility influences a rider's safety in a big way. With a sleek, light weight die-cast aluminum housing no trim ring is required. The upgrade offers a plug and play installation. To ensure top performance, ProBEAM® Passing Lamps are DOT, SAE and ECE Compliant. The durable Polycarbonate Lens ensures a long term, superior performance synonymous with Custom Dynamics® products. See more of the road ahead with the ProBEAM® Passing Lamps! Available with a Chrome or True Black Finish. Backed by the Custom Dynamics® Lifetime LED Warranty!  $299.95 (pair); DRAG PN: 2001-1751, 2001-1752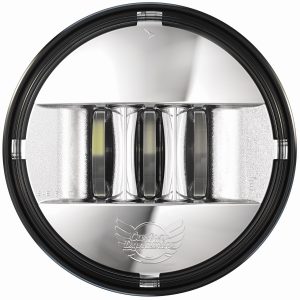 Last but not least we are proud to offer our state-of-the-art ProBEAM® Motorcycle LED Turn Signals! There wasn't a single detail overlooked! Utilizing advanced LED technology, the ProBEAM® turn signals maximize performance. We use unique reflector technology and the most superior automotive grade LEDs available. The modular design allows for customization. Adding an aluminum bezel to the units converts the LED Clusters into Bullet Ringz™ or Flat Ringz™. Ideal for a more custom looking application with visibility! This design will be especially beneficial for dealers. They can now offer the same configurations as before, with less inventory stocked! ProBEAM® Turn Signals are DOT and SAE Compliant. ProBEAM® turn signals include DOT/SAE compliant lenses.
Plus, the ProBEAM® LED Turn Signals will soon implement a design unlike any other on the market today. ProBEAM® Motorcycle LED Turn Signal Lenses will begin to transition to the new design that includes a gasket which is either built-in or provided, depending on the lens style. Backed by the Custom Dynamics® Lifetime LED Warranty. $109.95 (pair); DRAG PN: 2020-1572, 2020-1571, 2020-1574, 2020-1573, 2020-1575

Looking Forward!
Custom Dynamics® pulled out all the stops for their 15th anniversary year. The powerhouse LED manufacturer's new website, www.customdynamics.com, rolled out. First, vivid product pictures showcase the merchandise selection. As a result, the new site exemplifies the Custom Dynamics® brand and superior products.
Next, shopping options are now sorted by 'Vehicle' or 'Product' Category. Now ordering is easier than ever. Plus, new customer and dealer resources are available now. A DRAG Specialties® Parts Number Converter and Harley-Davidson® Parts finder simplify shopping. Because of the improvements, the website launch has already received customer praise such as "The New Website is User Proof!".
The website launch is only the beginning of the renovations in store! Now ProBEAM® LED Motorcycle Lighting now is the 2019 title sponsor of the Black Hills Harley-Davidson® American Flat Track race team! 
You only regret the rides you don't take and Custom Dynamics® has its sights on the open road ahead! Here's to another 15 years, Ride Safe!