Performance Bagger builds are the newest style of customization craze for Harley-Davidson® motorcycles. The Performance Bagger style focuses on performance and power without losing any aesthetic appeal. This new trend is a logical evolution from the "club style" motorcycle (typically Dyna models like FXRs) which generated its own H-D™ subculture. Full dressers are now getting chopped, pragmatically, in the name of performance. Custom Dynamics® has the  Motorcycle LED Lighting & Accessories to make it happen!
What is a Performance Bagger?
We used to associate baggers with long term riding comfort. In contrast, now a new generation of bikers are taking these stock baggers and building them into performance machines.
Upgrading the air filter, exhaust system, etc. is commonplace in the industry regardless of the model family or the rider's style preferences. These performance parts allow the bike to run as efficiently as possible and most importantly, increases the power the bike will produce. Performance Baggers utilize these upgrades but in a sportier almost stunt bike kind of style – think wheelies at a stunt show.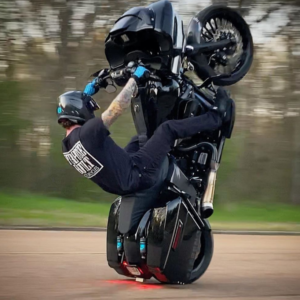 Builders typically install a new suspension system and often remove the fascia/filler panels and the TriBar light at the bottom of the stock fender. If you've ever seen a bagger do a wheelie, you can figure out why. Additionally, it's common for these builds to feature chopped rear fenders and shorter saddlebags.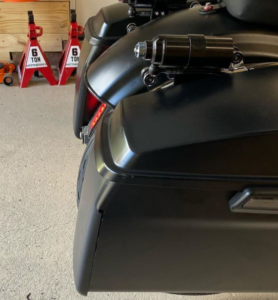 In turn, these modifications provide a very streamlined look.  These performance builds are far from the Big Wheel Baggers of the past. Performance Bagger builders typically favor a Gloss Black finish or minor color accents to the flashy Chrome that used to epitomize the baggers of yesteryear.
Performance Bagger Parts
For the hands-on Harley owner looking to style their Performance Bagger right, look no further than Custom Dynamics®!
Turn Signal Eliminator Kit
To start, Custom Dynamics® Turn Signal Eliminator Kit is one of many upgrades utilized by performance bagger builders. The design concept was to remove the turn signal arm bar on H-D™ Touring models, but in a hassle-free way. With the Turn Signal Eliminator Kit installed, the now simplified rear fender takes on a sleek, custom look. From here, builders can customize the look of the bike even further! Many of the most popular Custom Dynamics® motorcycle LED lighting products work as the rear turn signals.
Our customer, Sean, utilized the Turn Signal Eliminator Kit while recently working on a performance bagger build with his friend, Joey (owner of the bike). They opted for the performance bagger style to make the 2019 FLTRXS stand out (stock rear turn signal arm bar pictured, below).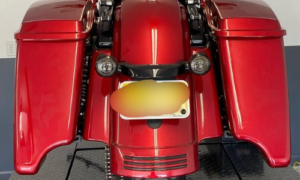 "Everyone has a bagger, but Performance Baggers haven't been popular until somewhat recently. Joey wanted to separate himself from the masses" Mission accomplished!
To start, a new suspension system with remote reservoirs was installed and the turn signal arm bar was removed via our eliminator kit (below).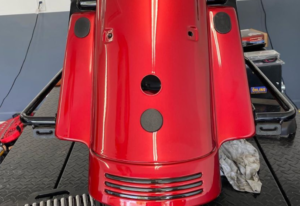 "Custom" can often mean you're in for a difficult installation. So, we wanted to know Sean's thoughts on the installation difficulty. Some background on Sean – he used to have a sport bike that he also customized in similar ways. However, products, fitments and applications were incredibly limited for the sport bike. This meant extending wires, splicing into harnesses, hard wiring, etc. His experience with the Custom Dynamics® upgrades is far from that.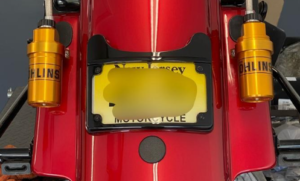 Sean said the plug and play upgrades were "nice and straightforward, everything was easy to do, wire lengths were all correct with plugs that matched exactly".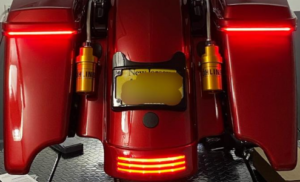 Sean spoke to his experience with other LED products/brands, too. He mentioned previously having tried cheaper off-brand LED upgrades which had repeated failures. While our products have a higher price point, Sean confirmed they are well worth it! In terms of the quality and design of the components, the craftsmanship, compliance, and the warranty/technical assistance, Custom Dynamics® can't be beat! See how Custom Dynamics® LED Motorcycle Turn Signals measure up against the competition.
Motorcycle Saddlebag & Latch Lighting
To compliment the minimalist style of many performance bagger builds, Low Profile BAGZ™ LED Saddlebag Lights are ideal. Low Profile BAGZ™ have a sleek, low profile design that still pack a big punch. Utilizing super bright red LEDs behind a red or smoked lens, the Low Profile BAGZ™ provide dual intensity rear function to the OEM Harley-Davidson® hard saddlebags and are available in a standard or sequential configuration. Sean opted for the Sequential Low Profile BAGZ™ to keep the rear fender clean!
Sean and his friend ride almost 10,000 miles a year so forgoing safety wasn't an option. They utilized a Magic Strobes™ Brake Light Flasher to ensure visibility wasn't sacrificed. There's no doubt now that drivers behind this bike will see it stopping!
Similarly, ProBEAM® BAGZ™ LED Saddlebag Lights are also a popular option! Offering a more robust design, ProBEAM® BAGZ™ match perfectly with our other ProBEAM® Motorcycle LED Lighting upgrades!
Saddlebag LED Latch Lightz™ are one of the newer Custom Dynamics® product releases. LED Latch Lightz™ are a direct, plug and play replacement for the saddlebag reflectors on OEM Harley-Davidson® hard saddlebags. With 81 super bright, dual intensity red LEDs per unit, Latch Lightz™ enhance side visibility without adding any "bulk" to the rear fender. Shop Motorcycle Saddlebag & Latch Lighting!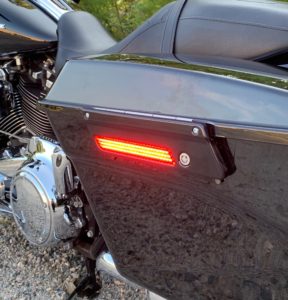 LED License Plate Frames
LED License Plate Frames, including Plug & Play options, are also available from Custom Dynamics®! Performance Bagger builders can add run, brake, and/or turn signal function without a lengthy installation. Plus, LED License Plate Frames take up minimal space on the rear fender, keeping with the general Performance Bagger style.
ProBEAM® Fillerz®
ProBEAM® Fillerz® fill the void in your saddlebag support rails. Like Latch Lightz™, ProBEAM® Fillerz® make the bike more visible but keep the rear fender streamlined by utilizing the cut outs that are already there stock! Pictured below is our industry friend Rusty, who utilized ProBEAM® Fillerz® on his 2017 Road King with Road Glide conversion.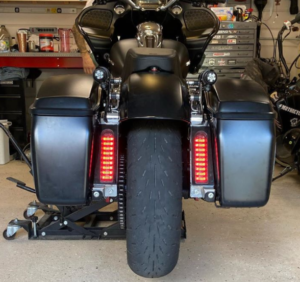 Rusty is a seasoned, second generation Harley owner – his dad has been riding now for 40+ years! For Rusty, the Performance Bagger was an obvious choice. He started out road racing sport bikes so his appreciation of performance parts is natural. It hasn't always been easy to find performance parts for Harley-Davidson® models. Trust us, Rusty's been looking!
Doing wheelies wasn't the main objective (although, he is featured in the wheelie pictures in this post). Instead, he wanted to be able to carve a canyon and also ride long distance comfortably. Rusty is no fair weather biker – he's the guy that rides to Sturgis, 2-days each way. With a performance bagger, you can have it all!  "Street performance parts completely change the outlook of Touring models" Rusty put it perfectly when he said the performance bagger is truly, "the best of both worlds".
TriBar Eliminator
Delving even further into the Performance Bagger school of thought, Custom Dynamics® also released the TriBar Eliminator. US Model Harley-Davidson® Street Glide®, Street Glide® Special, Road Glide®, Road Glide® Special, and Road King® Special now have a way to remove the stock TriBar while maintaining power to the rear turn signal arm bar. Removing the TriBar and the fascia/filler panels automatically streamlines the rear fender with a chopped, custom look. The seamless, plug and play installation greatly impacts the aesthetic of the rear fender. Eliminating the TriBar gives the rear fender the aggressive look these builds are known for.
If you do opt to keep your TriBar and Fascia Panels, consider upgrading your stock/OEM TriBar to our Custom Dynamics® ProBEAM® TriBar for run & brake functionality! This is another way to enhance visibility without adding any "bulk" to the rear fender!
Without a doubt, Performance Baggers exemplify the "less is more" aesthetic of custom builds. What they lack in "frills" or accessories, they make up with in performance power. For more information on any of the products mentioned here, call Custom Dynamics® or contact your local Drag Specialties dealer!