Tucked between the back-roads of Youngsville, NC you'll find Custom Dynamics® the industry leader in after-market motorcycle LED lighting.  Our small-town, family-value mentality still serves as the guiding force of our company. As a result, the business has continued to grow. We've always believed in making our customers the priority. The support we've received is assurance that our method works. In our 15th year of business, we want to offer a platform where we can interact with our customers! We want to provide industry news and relevant information to the motorcycle community. From beginner riders to seasoned enthusiasts, we value all of our customers. We hope this blog offers relatable information to the 'motorcycling way of life'!
Our Motorcycle Blog
First, you'll find featured bikes, tips from the Custom Dynamics® garage, Industry News, Events, product reviews, Customer Spotlights and more! We'll be featuring the Custom Dynamics® Bike of the Week along with other bikes and builds. In addition, this blog will get customers more familiar with the Custom Dynamics® crew (in the office and on the road) and will offer sneak peeks of all the behind the scenes action you don't typically see!
Our Story
2002:
Dave Pribula starts Custom Dynamics® from his home office. With a degree in electrical engineering and a passion for motorcycles, a dream was born. Equipped only with a "How To" book on building websites and an idea for high quality LED motorcycle lighting, Dave was on a mission.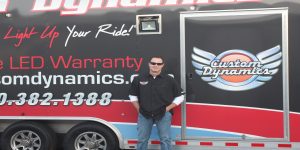 2006:
However, outgrowing the home office was inevitable. So, a retail/office space was opened in Wake Forest, NC.
2009:
Custom Dynamics® makes the asset purchase of No Magic Neon. The purchase included the Street Magic™ brand and a few popular products that are still best sellers today! 

2010:
Within a year of the asset purchase Custom Dynamics® joined DRAG Specialties, a worldwide distributor of power sports products. As a result, Custom Dynamics® products are available worldwide!
2012:
As a result, Custom Dynamics® transitions into their current 22,000 sq ft facility in Youngsville, NC.
2013:
Acquisition of MiniBeast® Air Horn puts Custom Dynamics® on the map for being seen and heard.
2015:
With the acquisition of MBW Motorcycle Products Custom Dynamics® expands product line to metric and Victory models.
"We at MBW are very excited to have Custom Dynamics® taking over the design, manufacturing and distribution of our product line. With their knowledge and experience in the motorcycle lighting industry, their exceptional customer service, and their outstanding reputation, Custom Dynamics® will be able to continue what we have developed and bring new and exciting ideas to the product line." -Jennifer Waring, President of MBW Motorcycle Products Inc.
2017:
Custom Dynamics® UTV Turn Signal Kit makes the Powersport Business Nifty 50 for the first time!
2018:
The ProBEAM® Motorcycle LED Lighting product line is released! It is the first LED Light Pipe product line for motorcycles! Countless hours and resources later, we can ensure the new ProBEAM® LED Lighting product line is superior in every way. Because of innovative technology, we're able to offer significant benefits while maintaining competitive pricing, an unsurpassed warranty and top-rated customer service!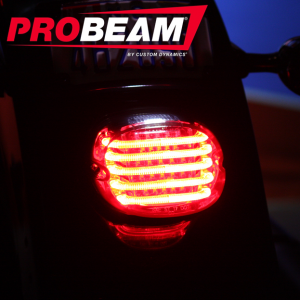 2019:
ProBEAM® by Custom Dynamics® is the 2019 title sponsor of the Black Hills Harley-Davidson® American Flat Track race team.
2020:
Now, four years in a row, a Custom Dynamics® product has been named by Powersport Business as one of the Nifty 50 which highlights fifty innovative products or services that are meant to drive dealer profitability. Universal ProBEAM® LED Turn Signal Lighting took home the prize in 2019 and ProBEAM® Motorcycle Auxiliary LED Halo Fog Lamps were named as one of the winning products for 2020!
The Road Ahead…
Kicking off the milestone year, Custom Dynamics® released a new website. The complete overhaul features a more user-friendly, sleek design! Shop the latest and greatest in motorcycle LED lighting and accessories! However the website launch was only the beginning of the renovations in store for 2017!
Most noteable, a new Freightliner Big Rig will debut this Fall Rally season at Delmarva Bike Week (later this month)! The big rig isn't all! In addition, a new 53-foot stacker trailer and new awning will showcase Custom Dynamics® at the Fall Rallies this year. Boasting an impressive 550 horsepower, there's no missing us! Almost tripling the size of the current Custom Dynamics® awning, the new 2247 square foot canopy will ensure customers can find them, rain or shine!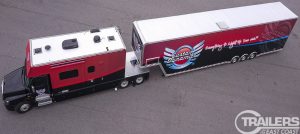 You only regret the rides you don't take and Custom Dynamics® has its sights on the open road ahead! Ride Safe!