Custom Dynamics offers a variety of plug and play lighting upgrades for Harley's new ST models. Harley-Davidson's 2022 release of three new models baring the ST designation are on trend. They are proving to be in high demand, too. The factory packaged performance upgrades and sport design are ready for the track. The Street Glide ST, Road Glide ST and Low Rider ST have a new look and thrilling feel. Yet, the stock lighting is comparable to what you find on other standard models. The headlight and center brake lights are factory LEDs. Turn signals are traditional incandescent bulbs. Custom Dynamics offers simple LED upgrades for all the new ST models. The lights and accessories are plug and play installation. They use high quality components for superior performance and durability.
Looking specifically at the new Low Rider ST (FXLRST). Low Rider ST lighting upgrades from Custom Dynamics transform the factory lighting. These product offerings can increase the safety and visibility of the motorcycle. Likewise, they make a stock model more custom.
LOW RIDER ST FRONT TURN SIGNALS
Upgrade front turn signals on the 2022 Low Rider ST (FXLRST) by swapping out the OEM bulbs. The factory lens pops off. The bulb releases with a twist. Custom Dynamics offers a halo-free Genesis 4 turn signal option. Each turn signal cluster features 48 dual color LEDs on a blacked-out circuit board. All LEDs illuminate as a bright white running light. Then, switch to full contrast amber turn signal. Or, install ProBEAM LED Turn Signals the same way. ProBEAM Dynamic Ringz feature a white halo running light. The center LEDs blink amber as the turn signal. The package also includes smoked lenses. ProBEAM 1157 front turn signals in solid amber is another option. They act as dual intensity amber running light and turn signal with amber lens.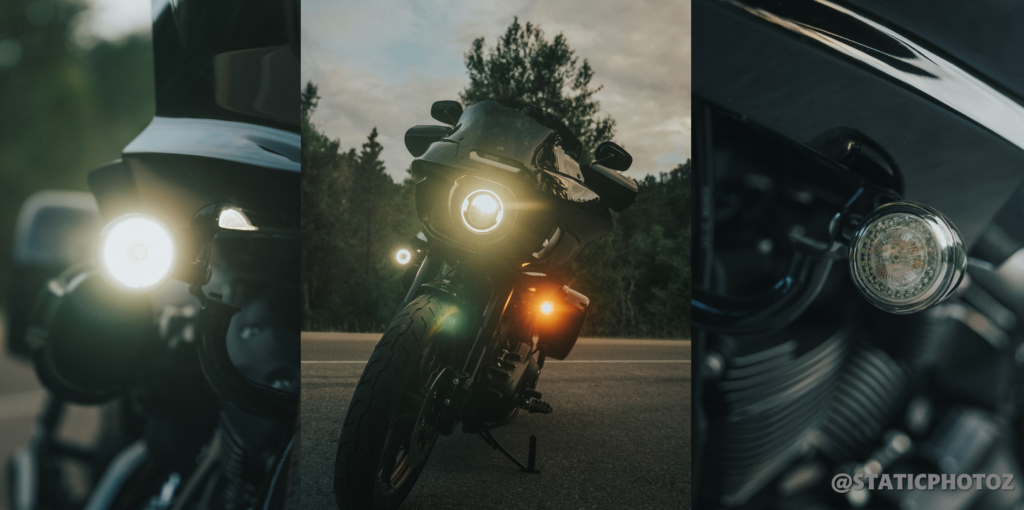 Custom Dynamics also offers alternatives to customize the motorcycle. Micro Bullet Turn Signals are one unique option. Measuring smaller than a quarter, these are bright and compact. Quality aluminum bullet shaped housing with sealed acrylic lens. The spherical shape maximizes LED light output for a bright spot of light. Housings are in a Gloss Black or Chrome finish and attach with mounting brackets. Plug & play wiring adapters are sold separately.
REAR TURN SIGNAL CONVERSION
Convert rear 1156 turn signals to a Genesis 4 or ProBEAM style LED cluster. Low Rider ST lighting upgrades from Custom Dynamics include ProBEAM Turn Signals which are 100% plug and play. They are available in solid Red or solid Amber. Another option is the Genesis 4 Amber/Red 1156 Turn Signal. This option does need extra wiring. It has an outer ring of 24 red LEDs with a center cluster of 24 amber LEDs. The 1156 turn signal base plugs into the factory rear turn signal socket. This powers the amber turn signal function. Then, two extra wires route through the back of the turn signal housing and run to the center taillight. Here, those wires connect into the motorcycle's running and brake power. This allows the rear turn signals to function as a red running & brake light with amber turn signal.
With the ProBEAM 1156 Red Turn Signal, the rider can convert them to function as run, brake & turn signal. Instead of extra wiring, install Custom Dynamics SMART Triple Play. This module converts the rear turn signals to function as running lights, brake lights and turn signals. It plugs in under the seat. It also has 10 built in brake flash and strobe patterns. Program the module to flash rear turn signals and the center taillight for added safety.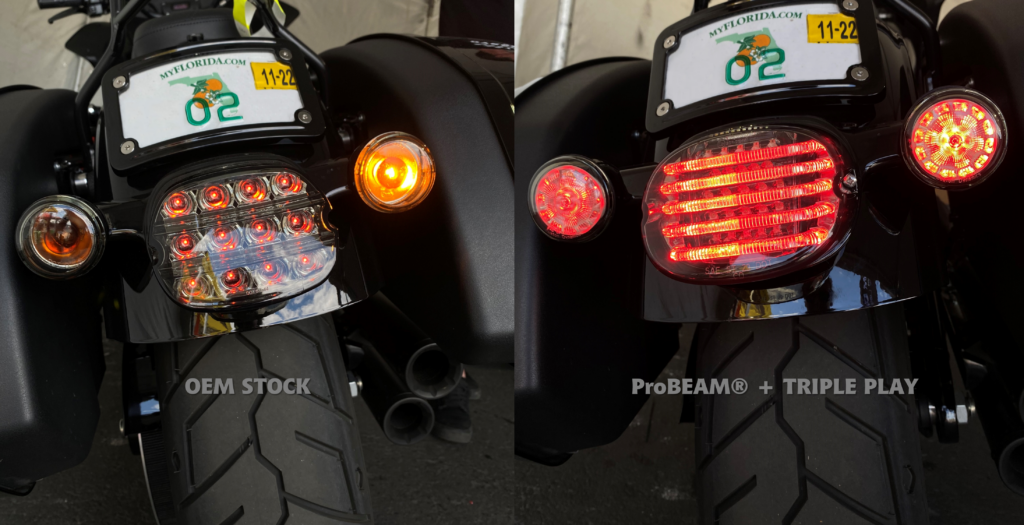 LOW RIDER ST TAILLIGHT UPGRADE
The new 2022 Low Rider ST (FXLRST) has a unique rear taillight assembly. The factory baseplate and connectors are specific to the Low Rider ST model only. To upgrade the rear OEM taillight, install wire harnesses for a plug and play application. These Low Rider ST Taillight Adapters are available for a standard run/brake taillight upgrade. Custom Dynamics Motorcycle Taillight is a more traditional LED style. Alternatively, the more modern ProBEAM LED Taillight design is available. Also, for an integrated taillight. Custom Dynamics and ProBEAM Integrated Taillights function as running and brake light, too. They also have built in auxiliary turn signals. These come with a main run/brake plug, plus connectors for both left and right turn signals. The wire harnesses mate the factory plugs to a Custom Dynamics or ProBEAM taillight plug.
LOW PROFILE LICENSE PLATE
In addition, the factory license plate mount on the Low Rider ST is customizable. The OEM license plate assembly is basically a 90° L-bracket. The license plate sits above the rear taillight because of how it fastens straight to the bracket. Custom Dynamics offers a low profile solution. The Laydown Plate Frame Mount. This mounts to the fender using the same factory mounting location. Therefore, no drilling necessary. It has a radius curve which hugs the fender, too. The mount positions the license plate closer to the rear fender for a clean, custom look.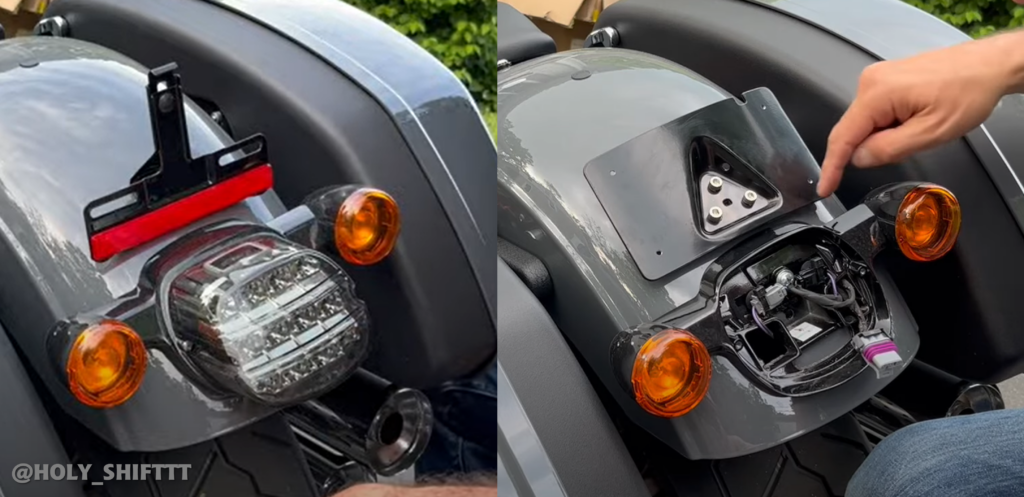 Add tag illumination with a Custom Dynamics Radius License Plate Frame or LED Tag Boltz. You can opt for a top window ProBEAM or Custom Dynamics taillight option instead.
YOUR SHOPPING LIST
Shop these Low Rider ST lighting upgrades from Custom Dynamics with your local Drag Specialties dealer or online at www.CustomDynamics.com. Part numbers are provided below for most of the plug and play products mentioned in this article. Lastly, you can contact Custom Dynamics Customer Support for product details and additional questions.
Genesis 4 Halo-Free Amber/White 1157 Front Turn Signal PN: GEN-4-AW-1157 (2020-1881)
ProBEAM 1157 Dynamic Ringz Front Turn Signal PN: PB-AW-1157 (2020-1571)
ProBEAM 1157 Solid Amber Front Turn Signal PN: PB-A-1157 (2020-1676)
Genesis 4 Amber/Red 1156 Rear Turn Signals PN: GEN-4-AR2-1156 (2020-1890)
ProBEAM 1156 Red Rear Turn Signal PN: PB-R-1156 (2020-1673)
SMART Triple Play Run, Brake & Turn Module PN: GEN-SMART-TPU-18ST (2050-0302)
Run/Brake Taillight Adapter for Low Rider ST PN: TL-LRST-ADPT (2130-0352)

ProBEAM Low Profile Run/Brake Taillight in Smoked with Top Window PN: PB-TL-LPW-S (2010-1363)
Custom Dynamics Run/Brake Taillight in Smoked with Top Window PN: CD-TL-TW-S (2010-1436)

Integrated Taillight Adapter for Low Rider ST PN: TL-LRST-INT (2130-0353)

ProBEAM Integrated Taillight with Auxiliary Turn Signals in Smoked with Top Window PN: PB-TL-INT-TW-S (2010-1417)
Custom Dynamics Integrated Taillight with Auxiliary Turn Signals in Smoked with Top Window PN: CD-INT-TL-W-S (2010-1445)

Laydown Radius License Plate Mount in Gloss Black PN: CD-PFM-B (2030-0993)

Radius LED License Plate Frame with Tag Illumination PN: LPF-RAD-B-LP (2030-0630)
Tag Boltz in Black with White LEDs PN: CD-TB-1-B (2030-1580)