Custom Dynamics® new LED Lighted Motorcycle Mirrors enhance visibility without sacrificing style. Available for a wide variety of motorcycles, the Dynamic Amber/White LED Mirrors provide running light, turn signal and/or brake function depending on how they're wired! The teardrop LED motorcycle mirror set also comes backed by the Custom Dynamics Lifetime LED Warranty! Dynamic Amber/White LED Mirrors are the perfect upgrade for a variety of riders; they are sleek but still pack a big punch!
The nicest of them all!
Dynamic Amber/White LED Lighted Motorcycle Mirrors combine two banks of dual color forward facing bright white and amber LEDs behind a smoked lens with a modern teardrop style mirror.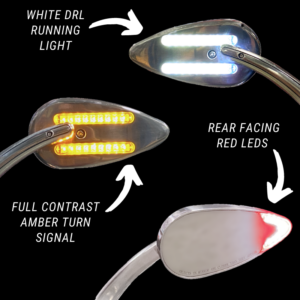 When you engage the turn signals or hazard lights, the White DRL LEDs automatically turn off. This provides greater visibility to the full-contrast amber turn signal! Also built behind a smoked lens, the rear facing Red LEDs can be wired to illuminate as turn signal and/or brake light. Alternatively, the rear facing Red LEDs can be wired to function as running lights, brake lights and turn signals on motorcycles with a run/brake/turn module installed!
2021 Nifty 50 Winner
For the 22nd year in a row Powersports Business released the "Nifty 50". These are 50 products and services that drive dealer profitability. And you guessed it! The Custom Dynamics® LED Lighted Motorcycle Mirrors made the cut!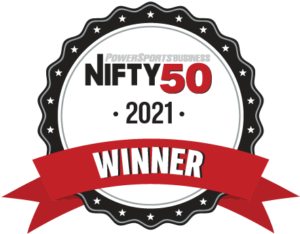 LED Lighted Motorcycle Mirror Adapters
Custom Dynamics® LED Lighted Motorcycle Mirrors are designed as a direct replacement for motorcycles that have OEM mirrors with 5/16" mounting holes. However, Custom Dynamics® also offers Motorcycle Mirror Adapters which are available for additional fitments and applications (sold separately).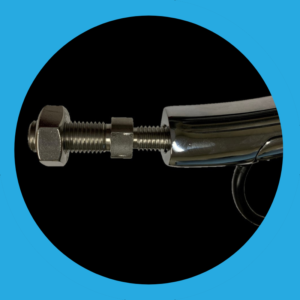 These LED Motorcycle Mirror Adapters allow you to convert the mounting stem thread sizes for installation on a variety of motorcycle models with different OEM mirror mounting hole sizes!
H-D™ Street 500/750 Models with 5/16-24 Right Hand Threads

Kawasaki, Suzuki, Honda, Victory & Indian® Motorcycles with M10-1.25 Right Hand Threads

Yamaha, Ducati Scrambler, Full Throttle & Other Motorcycles with M10-1.25 Right Hand Threads/M10-1.25 Left Hand Threads
Installation Made Easy
No one wants to see wires run haphazardly. So, the wire is concealed within the mounting stem on each LED motorcycle mirror. Then, the wire pigtail exits the backside of the unit to be routed along the hand control cable. The wiring isn't noticeable and provides a clean, seamless installation. You can review the installation instructions for Custom Dynamics® LED motorcycle mirrors, too!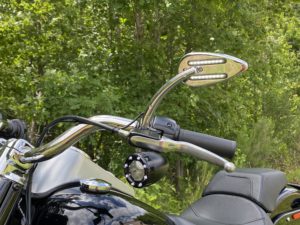 Once mounted, the mirror stems will position teardrop style mirrors 2.5" out and 5.5" above the mounting hole. The teardrop mirror head is 5-1/8″ wide and 2-9/16″ tall. The LED Lighted Motorcycle Mirrors include a machined stainless-steel ball for smooth adjustability and feature convex glass which is DOT compliant.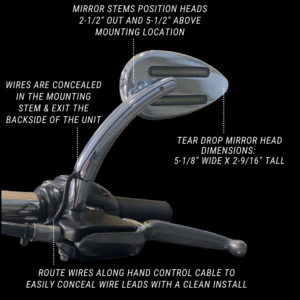 Plus, they are available in a chrome or gloss black finish to compliment the look and style of any motorcycle! Additionally, the teardrop LED motorcycle mirror set (sold as a pair) includes mounting hardware! These really are a must have for any motorcycle! But, don't just take our word for it! Our Brand Ambassador, Traveling Tall, installed them on his dad's Ultra Classic! Be sure to check out the installation video, below!
Upgrading your bike to motorcycle mirrors with LED lights has never been easier! However, the added benefit of Custom Dynamics® is the support team that's available. Custom Dynamics® policy is to resolve every phone call, email, or concern before we go home each night. In fact, technicians are available to answer questions and coach installers through installations! Technical support is available throughout the process. Our technicians are available to help – before, during or after installation! Need help with your Motorcycle LED Lighting? We can help!