Smaller motorcycle models, like the Harley-Davidson® Sportster and Dyna models, are a lot of fun to ride. But, it's not just the motorcycle that's smaller. Larger bikes, like Touring models, typically have a seven-inch headlamp plus passing lamps. Petite models come equipped with just a 5.75-inch headlamp.
Many riders will want to upgrade their lighting setup for better visibility. That is where Custom Dynamics® comes in. A range of 5.75-inch LED headlight solutions for motorcycles as well as supplemental lighting for Sportsters and other small-model bikes is available. These products let a rider see farther down the road and improve side-to-side coverage.
DRIVING LIGHT BAR
Smaller models don't have typical mounting points like crash bars and fairings, which means adding lighting can be a bit tricky. Unless, of course, a customer opts for the Custom Dynamics® High Power LED Driving Light Bar. Designed specifically for Dyna, Softail and Sportster models, this light bar has a mounting bracket that uses the triple tree and factory headlamp mounting bolt. The light bar essentially acts as a second headlight. Actually, it is brighter than the stock lamp thanks to its six bright-white, high-power LEDs.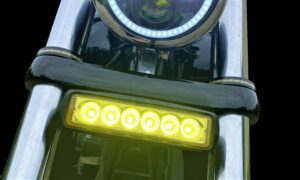 HALO HEADLIGHT
Custom Dynamics also offers 5.75-inch headlamp upgrades, with or without a built-in halo. The projection-style high and low beam combines with advanced optical D lenses to produce a smooth, bright white beam pattern. As well as an outstanding field of vision. The low beam remains illuminated even with high beam. The halo also remains illuminated at all times.
PROBEAM® HEADLIGHT
Sportster riders who want the brightest, widest view of the road ahead will want to choose the 5.75-inch ProBEAM® LED motorcycle headlamp. It is available in both a standard and adaptive version.
The standard headlamp remains stationary, while the adaptive one moves with the bike. This cutting-edge technology from JW Speaker provides maximum ditch-to-ditch light output where it's most needed. Adaptive technology enables the light to sense when the bike is leaning. It can redirect the beam to illuminate dark corners while also providing a superior beam pattern 1,500 feet down the road. The real-time redirection calculates bank angles using proprietary technology and on-board sensors. Automatically directing the light array up or down as the motorcycle leans while on both high and low beam.
The ProBEAM® lights themselves use advanced engineering and technology, too, producing a sleek, low-profile design with incredible light output. The low beam has three high-power advanced optical D lenses and a position light. While the high beam adds another two LEDs with a D lens and three LEDs with projector lenses. The result is maximum light coverage and brilliant illumination with activation of the high beam.
The ProBeam® 5.75-inch headlamps are available in a Chrome or True Black finish for the die-cast aluminum housing.
LEARN MORE
Talk to your Drag Specialties dealer to learn more about Custom Dynamics® LED Headlight Solutions for Motorcycles or connect with the Custom Dynamics® support team for insight and assistance. Find all Custom Dynamics® products in the FatBook and OldBook.
Author: Beth Dolgner
Source: Drag Specialties Magazine
Read More: https://partsmagazineonline.com/magazines