Shopping for Jeep lights? We've got you covered! When we say, 'EVERYTHING to Light Up Your Ride®!' we mean it. And that goes for Jeeps, too. Jeep Headlights, Light Bars, Halo Fog Lights and more are available from Custom Dynamics®. In this post, we'll check out all the Custom Dynamics® product options available to light up your Jeep!
Our newest release, Dynamic 4.5″ Amber/White LED Light Bars, are impressive! Perfect for a Jeep, these 4.5″ Amber/White LED Light Bars include 21 super bright dual color amber/white LEDs per unit. The white LEDs provide a super bright DRL while the Amber LEDs function as an eye-catching turn signal. Plus, the White LEDs to turn completely off for the entire turn signal cycle, providing even greater visibility to the amber turn signal flash.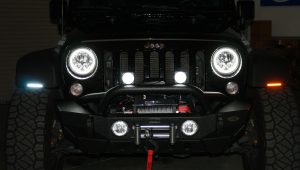 These Jeep LED Light Bars mimic the OEM Light Bars on newer Jeep models. Sealed in a slim gloss black housing, these light bars mount to any 4.5" flat surface and come pre-tapped for easy install.
ProBEAM® LED Halo Fog Lamps utilize Cree LEDs to produce a superior beam pattern with a super bright white LED halo for extreme light output. The 2.36″ diameter lens casts a bright white pool of light near the front bumper and fills in the dim spots between the fender and the headlamp beam pattern. Meanwhile 12 white LEDs illuminate as a constant on running light halo.
The high-power LED fog lamp can be independently turned on and off with the integrated push button switch. The On/Off switch would need to be routed through the Jeep's firewall. For this reason, we suggest incorporating a Simple On/Off remote. With a remote, there's no need to route the wire through the firewall and, you'll have remote control of the LED Halo Fog Lamp! Each ProBEAM® Fog Lamp requires an 8mm x1.25 mounting hole.
In the image above, you can see the ProBEAM® Fog Lamp beam pattern. With 430 Effective Lumens at 13.2V, you will not be disappointed.
Looking for Jeep Halo Headlights? The TruBEAM® 7" LED Headlights have a built-in DRL halo ring with plug and play H4 connector. The complex reflector design features a combination of projector and reflector type LEDs in a custom halo design! This Halo Headlight is a perfect match to the Jeep Halo Fog Lights (above).
Or, do you prefer a Jeep LED Headlight with a more modern look? If so, the ProBEAM® 7″ LED Headlights are for you! Made in the USA, ProBEAM® Headlights offer the latest in engineering innovation with a modern and sleek design. The advanced optical D lenses and projector lenses offer an incredibly wide optical pattern. In turn, producing an ideal beam pattern with illumination down the road as well as on either side.
Similar to LED Accent Lighting, after-market Jeep LED headlight options are endless! We'll walk you through a few factors to consider when choosing 'the brightest Jeep headlamp'.
There's no doubt that LED Accent Lighting is huge in the aftermarket LED industry. We offer single-color and color-changing options for LED Accent Lighting on your Jeep!
Custom Dynamics® LED Accent Lighting like MagicFLEX2® and Magical Wizards™ have 5050 LEDs. These accent lights have 3 individual diodes per LED chip. Because of this, they provide the greatest light output! On the 2016 Jeep Wrangler below, we used our Magical Wizards™ Level 2 Off-Road LED Accent Light Kit. Encased in a flexible rubber housing, our Heavy-Duty Magical Wizards™ strips can stand up to the abuse your off-road vehicle endures. These light strips are waterproof, weatherproof, and can even take impacts from rocks and debris without damage. From Jeep Grille Inserts to under glow ground effects, we've got it all!
Shopping around for LED choices can often be like comparing apples to oranges. Learn how to shop for (and compare) Jeep LED Lights!
The Jeep lighting selection from Custom Dynamics® continues to grow. By utilizing the latest technology and highest quality components we are confident you will find our LED products to be superior quality, providing years of unmatched, trouble-free performance. Custom Dynamics® offers the best warranty program in the industry. All the Jeep lights you've seen here are backed by our Custom Dynamics® LED Lifetime Warranty! No matter what kind of Jeep lighting you're looking for, Custom Dynamics can deliver!