Two genuine American brands, Indian® Motorcycle and Jack Daniel's, have partnered to produce a 2021 Jack Daniel's Limited-Edition Indian® Roadmaster Dark Horse! Over the past 5 years, this pairing brought us the Jack Daniel's Limited-Edition Indian® Chieftain, Scout Bobber and Springfield models. As two of the oldest genuine American brands, simply put, this pairing makes sense. Custom Dynamics® offers Motorcycle LED Lighting & Accessories for it, too!
Nothing says America like V-Twins and Tennessee Whiskey (not at the same time of course – don't throttle after the bottle!). Established in 1866, Jack Daniel's is the first registered distillery in the US while Indian® Motorcycle is the first American motorcycle company (established in 1901).
Jack Daniel's Limited-Edition Indian® Roadmaster Dark Horse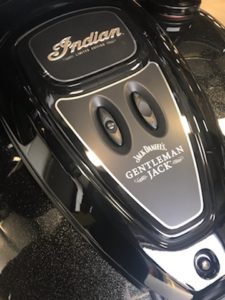 The 2021 Jack Daniel's Limited-Edition Indian® Roadmaster Dark Horse collaboration exemplifies the two American brands. Inspired by Gentleman Jack®, the limited-edition model has Jack Daniel's branding on the seat, tank, and floorboards.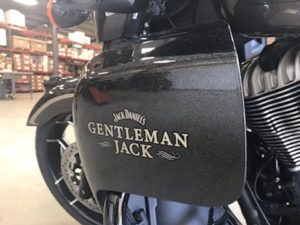 The Custom Whiskey Pearl paint scheme with Oakwood accents is a true reflection of the meticulous Gentleman Jack® crafting process. Plus, a one-of-a-kind Montana Silversmith badge, engraved with each bike's unique number (#1-107) adorns each bike!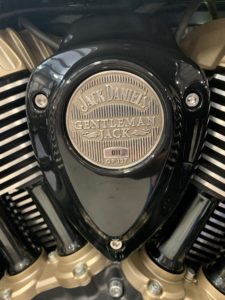 The Jack Daniel's Limited-Edition Indian® Roadmaster Dark Horse starts at $38,999, each built to order.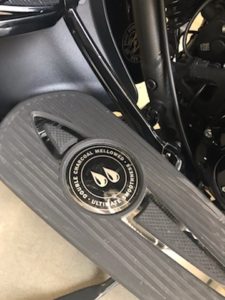 "We are honored to continue our relationship with Jack Daniel's and Klock Werks and are excited to again celebrate American craftsmanship and ingenuity through this collaboration of three iconic American brands," said Reid Wilson, Vice President for Indian Motorcycle. "The Jack Daniel's Limited Edition Indian Roadmaster Dark Horse is our most premium touring motorcycle and, much like Gentleman Jack, represents the ultimate commitment to quality and craftsmanship, while offering the widest range of premium features and riding technology."
Inside the Custom Dynamics® Garage
One of our long-time customers, Robert, is the proud owner of one of these limited-edition Roadmaster models. So, Custom Dynamics® was lucky enough to have one in-house recently! Getting to own one of these custom-built machines isn't easy. In fact, only 107 of these limited-edition models will be produced. So who gets to buy one? Each year, a lottery determines who will have the chance to own one of these Jack Daniel's Limited-Edition Indian® motorcycles. Robert was thrilled to finally be given the opportunity to own one of these beautiful bikes! And who wouldn't?
The Jack Daniel's Limited Edition Indian Roadmaster Dark Horse was the first 2021 model in the Custom Dynamics® garage. We were able to do some research and development in the hopes of offering even more options for models like this one.
Indian® motorcycle owners have the same desire most riders do. Customizing their ride with aftermarket exhaust, handlebars, and lighting products is a must. However, many times options are limited and Custom Dynamics® is hoping to change that! Robert had first hand experience with the lack of product availability. In fact, he purchased chrome arm rests that he power coated when the black finish options hadn't yet been released/offered. This is just one example of limited product availability some Indian® riders have seen.
Indian® BAGZ™ Saddlebag LED Lights
While Robert and his bike were here to visit, we were able to install our new Indian® Saddlebag LED Lights – our newest release for Indian® models! Currently, the Indian® BAGZ™ Saddlebag LED Lights are available for 2019-2020 Indian® Chieftain, Chieftain Dark Horse, Chieftain Limited, 2020 Chieftain Elite, Springfield Dark Horse & Roadmaster Dark Horse. Fitment is also available for 2020 Indian® Challenger, Challenger Dark Horse & Challenger Limited models.
These Indian® BAGZ™ Saddlebag LED Lights provide run, brake, and turn signal flash with a plug and play installation. In no time we had the BAGZ™ installed; Robert couldn't be happier with the finished product!
While designing the Indian® BAGZ™, we didn't want to distract from the aesthetics of the bike. Instead, we wanted to enhance it. So, our Low Profile BAGZ™ Saddlebag Lights for Indian® offer a low-profile design, under the lid of the OEM saddlebags. Utilizing super bright red LEDs behind a red or smoked lens the saddlebag lights produce a contrasting red running light with full intensity brake and turn signal.
Not only did we add function lighting to the rear fender/saddlebags, but we also widen the visual space of the motorcycle. By installing BAGZ™ LED Saddlebag Lights, you widened the space between the outermost lights. Meaning, the motorcycle will then demand more attention as it visually controls more space on the road. This detail was not lost on Robert either, saying, "You can immediately tell what a difference the extra lighting did to the visibility of the rear fender." We hope to continue releasing new options for Indian® models as well as other Motorcycle LED Lighting & Accessories!
Customer's Support
Robert has been choosing Custom Dynamics® to light up his ride since the beginning. As a fellow-resident of NC, Robert picked-up his very first order before Custom Dynamics® even had a retail location! Over the years, Robert's support has only grown. We've always believed in making our customers the priority. The support we've received, including from Robert, is assurance that our method works! As Robert put it, "not only are the products worth it but, the service and warranty coverage has been phenomenal". To disqualify any bias, Robert added that he hears the same feedback within the industry, at events, and from other riders, too. Robert regularly attends rallies and events. As one of our first customers, Robert is well versed in our products and customer support. If you've seen him at industry events, you might have even mistaken him as an employee!
Making A Difference
From the beginning, Custom Dynamics® family-value mentality was a welcomed surprise for Robert, too. Robert is part of Southern Cruisers Riding Club (SCRC), a neutral, family oriented, international riding club. SCRC works to make charitable contributions to St. Jude's Children's Hospital as well as other local organizations. To help their efforts, Custom Dynamics® has donated products and promotional items for their events. Robert notes that this year's benefit raised almost $40K for St. Jude's alone! We couldn't be prouder to help support such a wonderful cause!