Undoubtedly, Indian® motorcycles have been making a comeback. Now Indian® Motorcycle LED Lighting and Accessories are in high demand. At Custom Dynamics®, it is our goal to introduce new and innovative products to our industry. So, Indian® motorcycles, here we come!
Improved Indian® 
During the 2013 Daytona Bike Week Indian® Motorcycles unveiled their next generation of Indian® motorcycles including the 2014 Chief® Classic, Chief® Vintage, and Chieftain® models. Since this release Indian has continued to expand their line up with additional models and the popular Dark Horse design. Especially with Polaris Industries pushing the brand, more and more riders are considering what Indian® has to offer.
"Choice is Coming to American Motorcycles"
Indian® Motorcycle has steadily grown in sales and brand recognition since its asset purchase by Polaris Industries in 2011. In a declining market, Indian® seems impervious. In fact, retail sales in North America rose a staggering 17% just since last Spring and Indian® now accounts for a staggering 16% of the portfolio of its parent company.
Don't worry about finding a local dealer, either. Polaris President of Motorcycles, Steve Menneto, plans to grow their dealer network to more than 300 in North America alone!
New Market
Indian® riders have the same desire most riders do. Customizing their ride with aftermarket exhaust, handlebars, and lighting products is a must. Due to the electrical system found on Indian® models, only a few aftermarket products are available. But, Custom Dynamics® is hoping to change that! The Vehicle Control Module (VCM) controls the newer CanBus Indian® models. The VCM requires a separate ground for every function. As a result, most lighting products/electrical modules on the market are incompatible.
So, Custom Dynamics® purchased a 2017 Indian® Springfield™! First there was product development and testing. Our engineers got straight to work! We had to learn the electrical parameters of the Indian®. Next, we had to identify any current product modifications we could make for Indian® compatibility. A big project to say the least! More on the Research and Development of our Indian® Motorcycle LED Lighting and Accessories. 
Indian® LED Lighting & Accessories
Custom Dynamics® TruBEAM® LED Headlamp and Passing Lamps are now being offered for 2015-2019 Indian® models. Plus we have other products in the works! Shop Indian® Motorcycle LED Headlamp & Passing Lamps!
TruBEAM® Features:
Complex reflector design with 3 low beam LEDs and 2 high beam LEDs.
Combination of projector and reflector type LEDs for maximum light output.
Built in DRL halo ring.
Plug and Play Installation with H4 Plug.
Lifetime LED Warranty.
Optional  Hi-Lo-Halo Adapter is required to enable internal DRL halo rings.  Maximizing light output, the same Hi-Lo-Halo Adapter to keep the center headlamp low beam on when the high beam is activated (sold separately).
Pair with Custom Dynamics® 4.5″ TruBEAM® Passing Lamps for Indian®!
"We continually strive toward our company vision to be the world's leading seller of aftermarket motorcycle LED products and accessories. By staying in-tune with industry demands, we're able to commit to new product development and are able to offer products that our customers want." – Dave Pribula, Owner/President of Custom Dynamics®
TruBEAM® Headlamp & Passing Lamps for '15-'18 Indian® Chief® & Springfield™: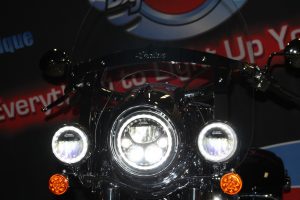 TruBEAM® Headlamp & Passing Lamps for '15-'18 Indian® Chieftain & Roadmaster: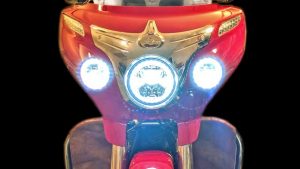 Moreover, for more information call Custom Dynamics® toll free at 1-800-382-1388, or contact your local Drag Specialties  dealer.
Certainly Indian® Motorcycle is here to stay. Seems like the only question now is just how large a foothold they will have in the industry. Learn more about Indian® Aftermarket applications and check out the new Custom Dynamics® Motorcycle LED Lighting for Indian®!
Above all else, one thing is clear – Indian® Motorcycle is in the fast lane now!