New product offerings from Custom Dynamics offer quality lighting and electrical solutions to Side-by-Side riders. With recent legislation, states across the US now allow UTVs on the roadway. Fresh-off-the-lot machines are not equipped with required lighting and functions. These new SXS products from Custom Dynamics offer simple solutions for UTV turn signals, license plate, and more!
SXS TURN SIGNAL SOLUTIONS
Adding turn signals to your UTV, ATV, or SXS can sound like a daunting task. Many riders find the number of components in complete turn signal kits intimidating. Custom Dynamics offers many product solutions for any skill level. You can install most in a home garage within an afternoon. First, let's look at the required components to add turn signals to most SXS models.
LED TURN SIGNALS
An obvious component of adding turn signals, is the light itself. To ensure a low-current draw solution, LED lights are the best option. Also, they are durable to withstand the most extreme off-road activities. Custom Dynamics offers 1.25" circle LEDs which you can add to fenders by drilling a 35mm hole. Amber LEDs are available for front turn signals; and red LEDs for rear.
FLASHER RELAY & SWITCH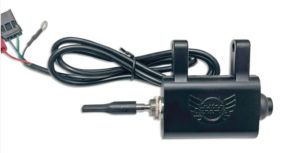 A flasher relay to regulate turn signal flash is also important. Custom Dynamics introduced a SXS Turn Signal Module to be plug and play with other products. This module adds left and right turn signal function. Also, it adds a self-cancelling feature. This unit installs with Custom Dynamics patent pending SXS Turn Signal Switch. The unique design mounts to the steering column tilt lever with included hardware. Because Its compact size tucks under the steering wheel, it's easy to access the three-position momentary turn signal switch. It has a built in 4-way hazard button and indicator light. Powersports Business names this innovative product among the 2022 Nifty 50 winners.
REAR TAILLIGHT CONVERSION
Riders can also transform the OEM rear taillights into turn signals. Custom Dynamics SMART Triple Play module is plug and play installation. Fitment is available for Honda Talon, Polaris RZR, and Polaris XP models. Similarly, it plugs into the SXS Turn Signal Switch mentioned before.
By installing the SMART Triple Play, the vehicle's rear taillights will function as running lights, brake lights, and turn signals. The module also has built in brake flasher with 10 different flash and strobe patterns. For instance, riders select the desired brake flash pattern by turning a dial on the module. Brake flashing modes add another level of safety when taking your machine on the roadway.
SXS LICENSE PLATE MOUNTING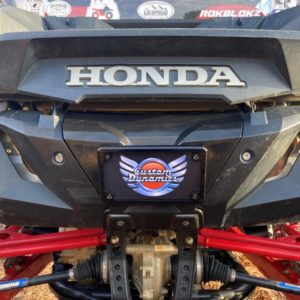 Custom Dynamics offers two solutions for mounting the tag to your SXS or UTV. First, Honda Talon models can mount a molded plastic insert to the factory rear muffler protector. The Honda Talon License Plate Mount is a textured black finish to blend into the vehicle. It has four threaded inserts for mounting a license plate. Even more, it does not call for any drilling or modification to the machine. Second, a universal SXS license plate mount option is available for other SXS and UTV models. Both options work with Custom Dynamics LED lighting solutions to illuminate the tag. A pair of LED Tag Boltz or a LED License Plate Frame are recommended.
LIGHTS FOR ON & OFF ROAD
LED Rock Lights are essential for off-road vehicles to provide extra visibility. Extreme obstacles are well lit to navigate safely. Yet, LED Rock Lights can also add safety and visibility to your street legal machine. Custom Dynamics Color Changing LED Rock Light Kit offers the best of form and function. The heavy duty LED lights with reinforced lens are for off-road abuse. Furthermore, the plug and play system makes wiring seamless. Mount the LEDs to the body of the SXS or UTV with included mounting hardware. Alternatively, use high-performance rock light magnets to mount on frame or metal areas. Plus, included Bluetooth controller brings endless color options and operation to your fingertips.
Custom Dynamics is a leading aftermarket lighting manufacture in the motorcycle industry. However, the same high-quality products are now available for 4-wheel machines. Off road UTV, SXS, and ATV riders can shop these parts through local Parts Unlimited dealers or contact Custom Dynamics to take advantage of superior customer service and technical support.