Custom Dynamics® offers a variety of auxiliary LED brake lights for your motorcycle. These increase rear visibility on popular Harley-Davidson® motorcycles without the classic center brake light. The addition of a third brake light increases motorcycle safety and visibility on the road. Rest assured, these LED brake light options are easy to install. They have plug and play connectors. They also come backed by Custom Dynamics® superior customer support and lifetime warranty.
FACTORY BRAKE LIGHTS
Popular Harley-Davidson® motorcycle models come from the factory with only two rear taillights. Plus, the bullet style light measures just over two inches in diameter. That is not a lot of light! Upgrading incandescent bulbs to a Custom Dynamics® ProBEAM® 1157 Rear Turn Signal or a Genesis® 4 LED Turn Signal Cluster is a smart first step in increasing visibility on the rear of the motorcycle. LEDs are brighter than regular bulbs and react quickly as a brake light. Yet, adding products to your motorcycle that act as a third brake light can have a stronger impact.
ADD-ON MOTORCYCLE BRAKE LIGHTS FOR TOURING
Street Glide, Road Glide, and Road King Special motorcycle models are all manufactured with same rear lights. The two rear 1157 bullet lights illuminate as running light, brake light and turn signal. Also, there is a three-bar light at the bottom of the rear fender. This TriBar light on domestic models only illuminates as a running light. Surprisingly, the TriBar assembly on International and Canadian spec models is only a shell. Without any light at all. Custom Dynamics® designed a direct plug and play replacement for the TriBar light found on these Harley-Davidson® touring models. The ProBEAM® LED TriBar Light offers a smooth bright light. Dual intensity auxiliary LEDs function as running light and adds brake light function without any extra wiring. This is a simple but effective upgrade uses a factory component to increase rear safety.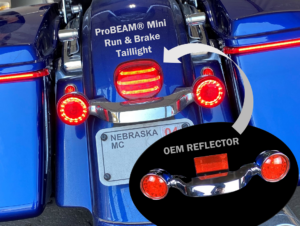 These same models can also use the Add-On ProBEAM® Run and Brake Taillight. The premium add-on motorcycle brake light from Custom Dynamics® offers three smooth light pipes as running lights. Also, 10 full contrast brake LEDs for eye catching visibility. Attached to the taillight assembly is a durable mounting bracket. Because of this, the unit mounts behind the OEM turn signal bar. It utilizes the turn signal bar alignment holes and mounting hardware. This positions the auxiliary run and brake taillight just above the rear turn signal bar. Wires feed through the fender alongside the factory wiring. So, no drilling is required for this installation. Power the LEDs up by connecting the plug and play wire harness under the motorcycle seat.
CENTER MOUNT BRAKE LIGHTS FOR SOFTAIL MOTORCYCLES
You'll find the same 1157 rear bullet turn signals on Harley-Davidson® Softail motorcycles. Similarly, these models have only two rear brake lights. Most often the factory mounts a reflector under the center of the rear fender. By removing this reflector, you can install one of Custom Dynamics® illuminated light bars. Fitments are available for Softail Fat Bob, Fat Boy, and Breakout models. These auxiliary LED taillights offer running light, brake light and built-in turn signals.

MOTORCYCLE BRAKE LIGHT FLASHER
All of these brake light products from Custom Dynamics® can be used with a Magic Strobes™ Brake Light Flasher. By installing this module, you will add 10 flash and strobe patterns to the rear brake lights. It increases motorcycle safety and visibility tremendously. This popular addition is plug and play on most models. It also has a lifetime warranty and is a simple upgrade to grab the attention of following traffic.
Well made product and easy to install. Plug and play, no splicing of wires which is great! Small and easy to hide on the Street Glide. Cagers will see the brakes come on now for sure! Anything to get there attention focused on me. Thank you Custom Dynamics for another great product!

Rick
Shop these add-on motorcycle brake lights from Custom Dynamics® and other safety upgrades for your motorcycle through your local Drag Specialties dealer.