No, he's not the well-known artist of motorcycle paintings. He is the husband, father, veteran, #903 Hoka Hey Rider and #45891 Iron Butt Rider – David Uhl.
Growing up, David traveled the east coast. As a result, he developed an itch to see new sites. This thrill was a leading force behind David's decision to join the United States Army. It gave him the opportunity to visit the western part of the country and spend five years in Europe. While abroad, he met the love of his life, now wife, Sandy. Today, they live outside of Denver, Colorado and have four children. Two of which have followed in their father's footsteps by serving our country.
David's experience brought an awareness of the financial challenges and family separation that our service members experience. As his active-duty service came to an end, David had a drive to give back. First, though personal contributions. Then, utilizing a harmonious relationship between his long-distance riding and charity efforts.
The Fisher House
Through David's continued support of the United Service Organizations (USO) and other charitable works, he crossed paths with The Fisher House Foundation. This was shortly after joining the Tour of Honor a few years ago. The Fisher House Foundation is a national 501(c)(3) organization. There are currently over 90 Fisher Houses serving military families. These homes are at military and VA medical centers around the world. They provide military & veterans families a free stay while a loved one is in the hospital.
David works with both the national and local Fisher House charities. Last year he met with the local leadership of his local Rocky Mountain Fisher House. Through this new relationship, David gained more insight into the needs for his local house. Also, he was able to partner with their Director for fundraising efforts.
Motorcycle Challenge Accepted
In 2018, David combined his love of the open road with his fundraising efforts. He set off on his first Hoka Hey Motorcycle Challenge™. This cross-country endurance challenge is not a race. Rather, selected V-Twin riders take part in a 10,000 mile journey that tests their determination & resilience.
Riders are also tasked with promoting and fundraising for a charity of their choice. David sprung into action for The Fisher House and was able to raise over $5,000 through his first challenge. Along the way, he made some new friends and finished in the top 30.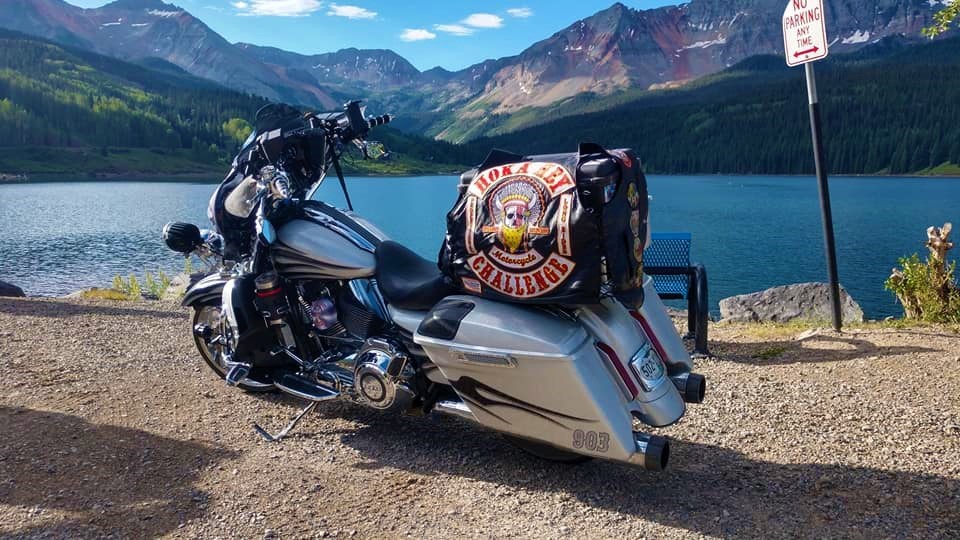 In 2020, David participated in the Hoka Hey Motorcycle Challenge™. Again, riding his 2015 Harley-Davidson® Street Glide CVO™. He doubled his contribution to The Fisher House while participating in the challenge. He raised over $12,000 last year to split between the national and local Rocky Mountain Fisher House. David began his second challenge with a goal of a competitive finish in the top 10. Yet, while running in 2nd place with 4,000 miles complete – David's motor blew.
In true warrior spirit, David arranged getting his Street Glide back to Colorado. He even procured a friend's Harley-Davidson® motorcycle to continue the challenge. After three more mechanical failures and a loss of 72 hours, David still completed the 2020 Hoka Hey Motorcycle Challenge in 12.5 days.
On the Throttle
Currently, David has his sights on 50K miles this year. Upcoming adventures include the 2021 Midwest Monster ride. To prepare for these, he has already purchased a new 2021 Harley-Davidson® Road Glide Limited. The 2015 Street Glide CVO™ remains in his garage for rides around town. As a long distance rider, David provided a new perspective to this battle of the fairings. He notes the benefits the fixed fairing brings to the table. When riding 20 hours a day for 10 days straight, the basic geometry of the motorcycle is key. Road noise, wind noise & wind fatigue can have major impacts on a rider's stamina.
Also, dial in the motorcycle to fit the rider. David added highway pegs to both Harley-Davidson® motorcycles. Along with a custom seat and handlebars. It's also important for any rider's safety to be seen on the road both night & day; especially for a challenge like the Hoka Hey. David equipped his new Road Glide Limited with some of Custom Dynamics® most popular ProBEAM® motorcycle LED products. From front Dynamic Ringz™ to rear motorcycle LED taillight and Fillerz®, David will be safe on the road when the kick stands go up. These products feature some of the highest quality components on the market today. They are DOT/SAE compliant and offer simple plug and play installation.
To learn more about David's fundraising efforts and support his campaign visit this David Uhl Fundraising Page. You can also follow David on Facebook to see details of his journey and updates on the Midwest Monster Motorcycle Challenge. His adventure begins in Kansas City, MO on July 30th and will traverse 7,000 miles.