Our customers love custom ink (almost as much as their motorcycle LED lighting)! Plus, we've always known that we have the best customers in the industry. But, even we were surprised by this one!
Our good friend Toby Oakes made the ultimate commitment. Toby, pictured above with Mark Heil (DRAG Specialties) works at Conrads Harley-Davidson.  Toby has long since been a fan of Custom Dynamics® LED Motorcycle Lighting. Now, there's no doubt of his dedication to Custom Dynamics®. Toby has added the Custom Dynamics® logo to his collection of ink! How's this for proof of purchase?
Custom Dynamics® Custom Ink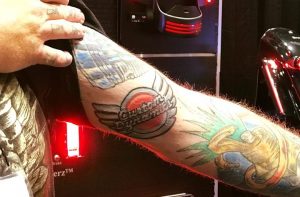 Personally, we love it! Working in the motorcycle LED lighting industry (on or off the road) is unlike other jobs. While attending industry events and rallies, we have the opportunity to meet people from all walks of life. We won't soon forget the customers and dealers we've met, many of whom we now call friends!
Want to source your favorite Custom Dynamics® motorcycle LED lighting locally? Drag Specialties®, Parts Unlimited®, Parts Canada, and Parts Europe can help locate a dealer nearest you.
A big thank you to ALL our dealers and customers – we couldn't do it without you!