20 Years in Business
Custom Dynamics has now been "Lighting the Way for 20 Years," as the anniversary slogan says. It's hard to imagine those early days. The website was a basic, DIY design done by company founder Dave Pribula at his home office.
Before long, Dave was heading up a retail location and a team of employees. All dedicated to high-quality LED motorcycle lighting. Today, Custom Dynamics' focus is still on designing high-quality, high-tech lighting products for motorcycles. What has changed is the size of the company. Now, based in Youngsville, N.C., Custom Dynamics has a 22,000 square-foot headquarters.
Dave might have designed that original Custom Dynamics website. But, he's actually an electrical engineer. He used to design everything himself. Now, an entire team of in-house engineers designs the products.
Among those products are the ones found in the popular and innovative ProBEAM LED line. Introduced in 2018, these lighting solutions include cutting-edge LED light pipe products. Light pipes provide a constant line of color, rather than a row of individual LED bulbs. This provides a smooth, streamlined look.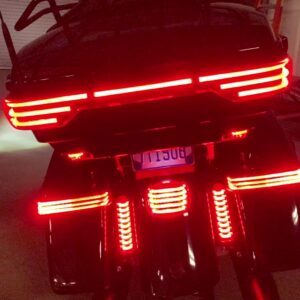 Custom Dynamics® Company
While Custom Dynamics is celebrating its 20th anniversary, the company will also celebrate its 12th year in the FatBook. After teaming up with Drag Specialties in 2010, Custom Dynamics products were available at a national level for the first time. By joining forces, riders can easily walk into their local dealership and find Custom Dynamics lighting solutions.

It takes more than good products to sustain a high level of success. Custom Dynamics prides itself on providing outstanding customer service, too. Members of the customer service team and technical support staff are on hand to help. Ready to assist both dealers and customers via phone, e-mail, web chat or an online request form.
Part of that great customer support is the Custom Dynamics warranty. Their lifetime warranty covers all Custom Dynamics LED products and electrical modules. When a customer or dealer has a warranty claim they have convenient options. They can ship the product back or submit photos for evaluation. Claims are often processed on the same business day. High-volume dealers can pull from their stock to get their customer a resolution. Knowing the replacement part will be on its way soon.
Dealers also get the peace of mind of knowing that when they need a part, it will be in stock and ready to ship. Of its more than 1,000 part numbers, Custom Dynamics reports that it has a fill rate of more than 95 percent. The team at Custom Dynamics works tirelessly to navigate supply chain challenges to ensure dealers and customers alike aren't kept waiting.
Learn More
Talk to your Drag Specialties dealer to learn more about Custom Dynamics or connect with the Custom Dynamics suppoort team for insight and assistance. Find all Custom Dynamics products in the FatBook and OldBook.
Author: Beth Dolgner
Source: Drag Specialties Magazine – February 2023
Read More: https://partsmagazineonline.com/magazines