The biggest advocates of aftermarket LED Motorcycle Lighting (i.e. motorcycle LED headlights, motorcycle LED turn signals, motorcycle LED tail lights, LED motorcycle auxiliary lights, etc.) are riders who have experienced the advantages firsthand. Safety doesn't happen by accident. Motorcyclists who ride often (commuting to work or taking long trips, for example) notice these benefits the most. It's simple, the more time you spend on the motorcycle, the more beneficial improved riding is to you!
Incorporating LED lighting on your motorcycle will enhance safety in two major ways. First, the rider has better vision of the road ahead. And second, the rider is more visible to other vehicles on the road. We'll explain these two advantages (and more!) along with the LED lighting upgrades that will get the job done!
See Where You're Going
It's a simple concept but, many motorcycle riders don't realize how limited their view of the road truly is. By seeing more of the road ahead, riders can identify potential hazards earlier. In turn, the rider has more time to adjust or maneuver the bike away from dangers. Even seeing road signs earlier will have a significant impact on the rider's ability to navigate the road safely. LED Headlamps and Auxiliary LED lighting can greatly improve visibility of the road ahead. Sealed Beam & Adaptive Motorcycle LED headlights are far superior to HID Headlamp Kits. The failure rate is far lower and their beam pattern is more consistent. HID Headlamp Kits typically produce dim and/or hot spots where the beam isn't uniform.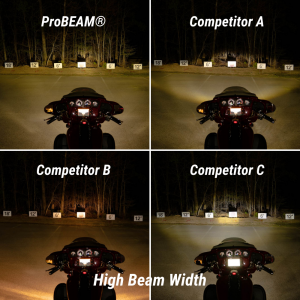 Sealed Beam LED Motorcycle Headlight
Often Sealed Beam Motorcycle LED Headlights top the list of direct replacements for OEM motorcycle lighting. Sealed Beam LED Headlights are designed to replace the stock headlight within the OEM bucket. Made in the USA, ProBEAM LED Motorcycle Headlights offer the latest in engineering innovation. By directing the light more precisely, sealed beam headlights produce an ideal beam pattern. The rider can then see much further down the road as well as on either side. The Color Temperature of ProBEAM® LED Headlights is 5000K, much more of a clean, cool white than the yellow glow of a halogen bulb. This makes them more eye-catching to other drivers. Plus, their polycarbonate lens ensures long-term durability and they use far less energy than their HID/Halogen counterparts.
Adaptive LED Motorcycle Headlight – It Moves with You™!
Adaptive LED Headlights are the newest direct replacement option for motorcycle headlights. ProBEAM® Adaptive 2 LED Motorcycle Headlights have been improved to feature JW Speaker's Adaptive technology providing maximum ditch-to-ditch light output where you need it most! Adaptive technology enables the light to sense when the bike is leaning so it can redirect the beam to illuminate dark corners while also providing a superior beam pattern. The real-time redirection is automatic, directing the light array up or down as the motorcycle leans while on both high and low beam.
LED Motorcycle Auxiliary Lights
Another option is LED Motorcycle Auxiliary Lights which will improve the beam pattern even more! ProBEAM LED Halo Fog Lamps utilize Cree LEDs and offer 100% plug & play installation. These fog/auxiliary lights also have a built-in, super bright white LED halo. This serves two purposes. First, a bright white pool of light is cast near the motorcycle. This fills in the dark area between the bike and the low-beam headight pattern, making the road ahead even easier to see. This is ideal for riding when it's dark outside (early morning commute, daylight savings, etc.) or when the weather isn't ideal (fog, snow and rain). After all these conditions aren't always the easiest to forecast, especially on a long ride!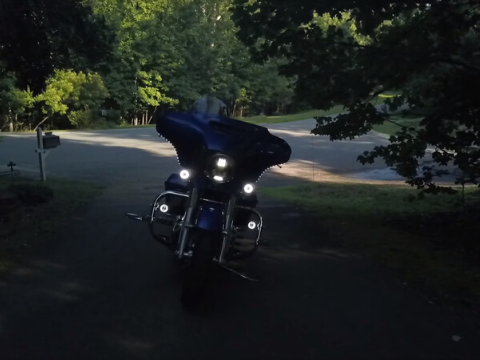 12 white LEDs illuminate as a running light halo serving the second purpose: making the bike more visible to other vehicles on the road. Not only is the DRL Halo attention grabbing, it can also be mounted in a way which adds width to the bike visually. Each ProBEAM® Fog Lamp requires an 8mm x1.25 mounting hole and can easily install onto 1.25″ engine guards with ProBEAM® Accessory Mounting Clamps (sold separately). Mounted on the engine guards, the ProBEAM® Halo Fog Lamps increase the bike's presence on the road by enhancing the visible space it takes up.
Let Them Know You're There!
We've all heard the close call stories from bikers on their motorcycles. Too many of these stories end with the other driver claiming, "I just didn't see you".
Daytime Running Lights
A White DRL is integrated into many of our most popular products. It is part of a very important classification of lighting: Daytime Running Lights/Lamps (DRL). DRLs are forward facing lights on a vehicle. Their job isn't to help you see the road better but rather, to help other drivers on the road see you. DRLs play a significant role in the visibility of a motorcycle.

Motorcycle Windshield and Fairing LED Lighting (LED Windshield Trim, LED Vent Inserts and LED Headlamp/Passing Lamp Trim Rings) serve this purpose. Like DRLs on automobiles, the White DRL LEDs in these products illuminate as soon as the motorcycle is turned on.
OEM-Direct Replacement LED Lighting
Stock lights on most motorcycles don't provide much visibility. Incandescent bulbs are used as a low-cost option for manufacturers and they lack any significant benefit. Even motorcycles with stock LED lighting can benefit from higher quality aftermarket LED lighting upgrades. ProBEAM® LED Turn Signals are visible even in poor weather conditions!
LEDs illuminate much faster (and brighter) than incandescent bulbs. There is no delay in an LEDs illumination. What difference can a few seconds make? Well, consider that distracted driver behind you. If they see your brake light even a fraction of a second earlier, they're able to react quicker. If they spot you coming down the road sooner, they're less likely to pull out in front of you. A split-second can be the difference between a serious accident and riding home safely.
High Quality Components & Design
ProBEAM® is currently the only LED Light Pipe product line in the motorcycle industry. Built with automotive grade LEDs, ProBEAM LED products offer a brighter light output and superior performance.
First, consider the ProBEAM LED Lighting options for the rear fender. Light pipes illuminate as the constant on running light. Light pipes distribute and direct the light. In turn, light pipes offer more uniform illumination and reduce shadowing and glare. The added benefit is more side visibility. In addition, high-power Automotive Grade LEDs provide full contrast high intensity function (brake and/or turn). Rather than the entire light increasing intensity/brightness, an entirely separate set of LEDs illuminate high intensity instead. Below is the Rear Fender ProBEAM LED Lighting compared to stock/OEM lighting on Harley Davidson

Similarly, the ProBEAM LED Motorcycle Turn Signals are not only brighter than stock incandescent bulbs but, they too offer a brighter light output and increased side visibility compared to other LED turn signal options. Plus, the design of the lenses provides benefits of their own. ProBEAM LED Turn Signal Lenses include a gasket which is either built-in or provided, depending on the lens style. By implementing the unique gasket design, we provide a water-tight seal. In turn, the gasket will keep all components dry and free of corrosion. This resolves the most common annoyance of moisture inside the turn signal housing and the damage it can cause over time.
Make Your Lighting Do More!
The "cherry on top" is that many ProBEAM LED upgrades add function, too. From Fender Tips to Tour Pak Side Marker Lights, much of the stock lighting has limited function (i.e. running light only). ProBEAM® Tour Pak Side Marker Lights enhance side illumination on the H-D™ Tour Pak with added run, brake and/or turn signal function (depending on year/model). ProBEAM LED Rear Fender Tips and ProBEAM® Dual Intensity TriBars provide brake function in addition to the stock running light function.
You Get What You Pay For
Custom Dynamics® direct replacement LED motorcycle lighting is designed for specific applications. This means compatibility and fitment can be ensured for our customers. If a product does not fit properly or function correctly, it cannot offer the same benefits to the rider. This is a common issue with counterfeit or low-quality alternatives. Throughout the design and testing of the ProBEAM® product line, there was a keen focus on meeting performance and quality standards. This included rigorous testing which has provided our OEM-direct replacement ProBEAM LED options to be DOT & SAE compliant. ECE compliant products are also available.
Add-On LED Motorcycle Lighting
Why stop with direct replacements? Add-on LED lighting options are the perfect way to customize your ride even further!
BAGZ™ LED Saddlebag Lights
A popular option is add-on LED saddle bag lights like our BAGZ™ which come in a variety of configurations. Not only do the LEDs add function lighting to the rear fender, they also widen the visual space of the motorcycle. Visualize the stock rear lighting on a motorcycle. For the most part, all the lighting is positioned on/towards the center of the rear fender. By installing BAGZ™ LED Saddlebag Lights, you've widened the space between the outermost lights. Now, the motorcycle will demand more attention as it visually controls more space on the road.
Motorcycle LED Saddlebag Latch Lightz™
This is also true for Motorcycle LED Saddlebag Latch Lightz™. A new release, H-D Owners are falling in love with LED Latch Lightz™! While these are a direct, plug and play replacement for OEM Harley-Davidson® hard saddlebags, they add LED Lighting where previously there was only a reflector, stock. Automatically this increases the side visibility of the motorcycle. While a reflector is nice, having LEDs which function as run, brake and/or turn signal is without a doubt better! LED Saddlebag Latch Lightz™ & Saddlebag LED BAGZ™ Lights add visibility to your Harley Davidson without compromising on style (pictured below).
Latch Lightz™ utilize COB (Chip on Board) LEDs which are relatively new to the market. COB LEDs have multiple LED chips in a single module. The benefits are vast. COB LEDs take up less space so the highest number of LED chips can be incorporated. Consequently, COB LEDs provide a brighter light output. Also, because of their design, heat is dissipated. With heat dissipation, efficiency is increased and the rate of failure is reduced. Plus, light loss is significantly decreased while the viewing angle is increased.
More Bang for your Buck
Safety is hardly the only advantage LED lighting offers. LEDs also last longer than incandescent or halogen bulbs. And, without any breakable glass or filaments, LEDs are also more durable. Some estimates predict the lifespan of an LED to be 35+ times longer than incandescent/halogen bulbs. Even when an LED does finally fail, it's typically a "partial" failure. Meaning, on a long trip if a single LED stops illuminating, you still have the rest of the unit working properly to get you home. Not to mention, Custom Dynamics® LED Motorcycle Lighting products are backed by a Lifetime LED Warranty. LEDs cost more upfront but, you save money over time when they don't need to be replaced repeatedly. That means more gas money to really enjoy your motorcycle! Plus, LEDs use less energy and produce less heat – your bike will thank you!
While there are loud pipes and riding strategies for dealing with distracted drivers, the benefits of LED lighting cannot be denied. Not only does LED Lighting provide you with better vision of the road ahead, it also makes you more visible to other drivers. Next time you're on four wheels, notice the lighting on the motorcycles you see. Do they catch your attention? If so, you're most likely seeing someone who is taking advantage of Aftermarket LED Motorcycle Lighting!