Custom Dynamics® motorcycle LED lighting and accessories are available in the DRAG Specialties® FatBook™ for the 10th year in a row! Motorcyclists choose after-market products for a variety of reasons. They might be personalizing their ride. Or they could be looking to increase safety or performance on the road. Whatever the reason, Custom Dynamics® and the DRAG Specialties® FatBook™ can help get the job done!
Expanding our distribution channel exclusively with Drag Specialties® & Parts Unlimited®, the Custom Dynamics® catalog is larger & more diverse than ever. In fact, we offer over 1,000 product SKUs through DRAG Specialties®!
2021 FatBook™ Cover Bike
The custom 2019 FLSB Sport Glide™ demands attention as this year's 2021 FatBook™ Cover Bike. Upgrades from top brands in the industry were used to craft this one-of-a-kind build!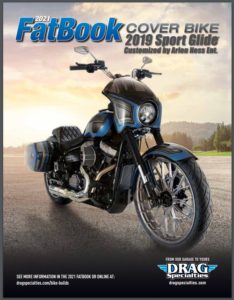 This motorcycle masterpiece was designed and built by Cory Ness of Arlen Ness Enterprises in Dublin, CA.
"Clean, classic styling came together with some of the most sought-after performance upgrades on the market to produce one beautiful and powerful work of art".
2021 is not be the first FatBook™ Cover Bike that showcases Custom Dynamics® upgrades, either! In previous years, FatBook™ cover bikes used Custom Dynamics® upgrades. This year is no different. You can find our Custom Dynamics® ProBEAM® LED Headlamp on the 2021 cover bike, adding to the bike's "impressive looks and performance." In the DRAG Specialties® 2021 FatBook™, you will find more Custom Dynamics® high-quality motorcycle LED lighting products than ever before – all of them backed with our unmatched customer support.
National Account Sales Team
In 2020, we expanded our National Account Sales Team to include a 2nd National Account Sales Representative, Rob Malenfant. Rob joins our National Account Sales team which includes Allen Schippert (National Account Sales Representative) & Kyle Hoffman (National Account Sales Manager). This team is dedicated to working with DRAG Specialties® representatives and dealers throughout the year!
DRAG Specialties® Dealer Support
From purchase to install, our customers can support their local dealership without settling for mediocre products. Furthering our DRAG Specialties® dealer support, we've implemented exclusive display programs, too! These high-quality, eye-catching displays feature our most popular LED lighting products. And we're always coming out with new ones! In fact, one new addition to the display program is our show-stopping ProBEAM® Wall Display. It's the perfect way to showcase the premium ProBEAM® product line, demanding attention in any dealership!
Many customers want to see the products firsthand, prior to purchase. When you see our products in person, the high-quality design is undeniable. Customers can contact their local DRAG® Specialties dealer to see if they stock our products or have displays available.  It's easier than you think to source your favorite Custom Dynamics® product locally! Drag Specialties®, Parts Unlimited®, Parts Canada, and Parts Europe can help you locate a dealer nearest you. Enter your zip code or postal code into the Dealer Locator and find all the dealerships within a chosen mile radius!
After expanding into world markets (Parts Canada & Parts Europe) our products are available to more riders across the world than ever before. In fact, many local neighborhood dealerships will be able to access our inventory! To help those dealers, we've even created specific part numbers for DRAG Specialties®. This makes ordering from the FatBook™ easier than ever for DRAG dealers! Turn signal conversion kits, for example, are available to upgrade the front and rear turn signals to LED on H-D™ models!
Tools of the Trade
Custom Dynamics® Dealer resources like our Part Number Converter Tool allow dealer to ensure their part numbers are up to date and correct. The DRAG® Part Number will also display in the Custom Dynamics® online shopping cart. That way dealers know right away if the product is available in the FatBook™ via DRAG Specialties®. We hope this tool and others like it, will make it easier than ever for dealers to choose Custom Dynamics®!
The Road Ahead
It is clear Custom Dynamics® success is owed to our loyal customers, dealers, and supportive distribution channel. We appreciate every dealer that makes the Custom Dynamics® and ProBEAM® brands available to their customers! And, we appreciate every rider trusting us to keep them safe on the roads with Everything to Light Up Your Ride!®
As LED lighting technology continues to advance and become prevalent in the motorcycle industry, it is our goal to introduce new and innovative products to the motorcycle industry. So, make sure you check out the DRAG Specialties® Mid-Year update, too! We greatly appreciate the support of Drag Specialties® and its dealers. We know supporting local dealers will lead to a thriving industry!